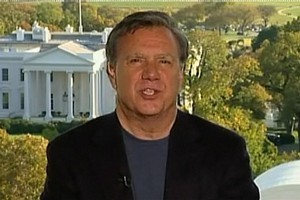 Two former high-ranking United States officials who helped to restore the American relationship with New Zealand have been honoured today.
James Clad, Deputy Assistant Secretary of Defence for Asia Pacific Security from 2007-09, has been made a Member of the New Zealand Order of Merit.
An old boy of Fairfield College in Hamilton, the former Foreign Affairs and Trade diplomat joined the Pentagon in 2007.
Richard Armitage, Deputy US Secretary of State in 2004-05, is made an honorary companion of the order.
While he was Assistant Secretary of Defence for International Security, he was closely associated with the Anzus rift in the mid-1980s and America's reprisals against New Zealand for this country's anti-nuclear legislation.
By 2007, Mr Armitage was advocating a restoration of military exercises and a free trade agreement - arguing it was in the United States' interests.
Mr Clad was the Pentagon official who drove through the revised defence relationship symbolised by April's joint naval exercises in the Pacific - the first since 1984.
Mr Clad was born in the United States but grew up in Hamilton and joined the Ministry of Foreign and Affairs and Trade.
He left in 1983 to become a foreign and war correspondent for the Far Eastern Economic Review. He joined the Pentagon under the Administration of George W. Bush.
Mr Clad told the Herald it probably helped that he was a New Zealander because having responsibility for 30 countries, he might not have invested as much time on this country if he had not had the background.
"It was amusing because I would go in and see the chairman of the joint chiefs of staff, Admiral [Mike] Mullen, or Admiral [Timothy] Keating, who was the guy in the Pacific Command, and I would say, 'Look, I'm the New Zealand mole ... You realise I'm going to work on this thing."
Mr Clad said the Anzus rift occurred in a radically different time.
He said that when he received notice of today's royal honour in the mail, he was astonished and moved.
"It's not about being recognised or appreciated. It's just the sense that one is doing the right thing for both countries."