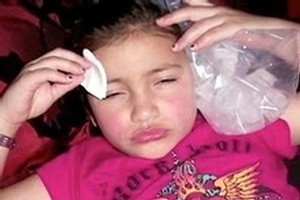 An American woman who claimed she injected her 8-year-old daughter with botox, now says it was a hoax.
Kerry Campbell attracted world-wide criticism after she appeared on Good Morning America to describe the anti-wrinkle injections as of part her daughter Britney's preparations for beauty pageants.
But it's now emerged "Kerry Campbell" is not who she seems.
TMZ.com reports a woman called Sheena Upton she says was paid $200 by a tabloid newspaper to pose as "Kerry Campbell".
In a sworn declaration to a California court, the part-time beautician from San Francisco said she then appeared on US TV shows Good Morning America and Inside Edition for an additional fee.
Britain's Guardian newspaper reports Upton's deposition came after her daughter was taken into care earlier by US child protection officials.
"The truth is that I have never given my daughter Botox, nor allowed her to get any type of waxing, nor is she a beauty pageant contestant," she wrote.
The Guardian says Upton said her daughter was examined by a doctor at UCLA who confirmed that the girl had never been injected.
It also says The Sun newspaper is standing by its original story, saying its reporter witnessed the woman giving the botox injections.
- Herald Online staff