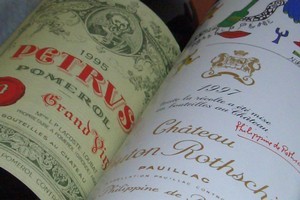 It is one of the most hotly debated topics in the world of wine: is the Bordeaux bubble about to burst? The price of one of France's most celebrated wines has soared over the last 12 months as British buyers compete with an increasing number of Chinese oenophiles to snap up the all too precious cases of claret.
With the likes of Chris de Burgh and Sir David Frost recently selling their bordeaux collections for six-figure sums, attention has focused on the top-tier wines such as Chateau Lafite, cases of which are going for as much as £15,000 ($31,300).
At the start of the year, Lord Lloyd-Webber sold off a large part of his cellar including a 12-bottle lot of Chateau Petrus 1982 for US$77,564, ($95,000) - a near record high.
Wine merchants Berry Brothers recently sold three cases of the same vintage for £58,000 a case.
A dozen bottles of a typical second-tier bordeaux was selling for around £600 a year ago, according to Berry Brothers, but is now going for anything up to £2000.
Experts say demand for bordeaux is so great even wines from less well known producers have seen prices rocket. A decision by the Hong Kong government to abolish wine and beer duties has fuelled the demand.
Berry Brothers estimates that last year, of the £110 million of bordeaux it sold "en primeur" - while still in the barrel - some £30 million worth went through Hong Kong, compared with just £10 million the year before. With en primeur sales of the 2010 vintage, which was apparently a fantastic year, soon to take place, the company is anticipating substantial demand from Chinese buyers.
"We've got less than 100 customers in China, so you can imagine what happens if more Chinese people get a thirst for bordeaux," said Simon Staples, sales and marketing director at Berry Brothers.
Intriguingly, the demand among Chinese buyers is only for red wine and only for bordeaux. "Burgundy is much more complicated, the knowledge among Chinese buyers isn't there yet, whereas bordeaux is much easier to understand," Staples said.
"They want red wine; it's a male thing, it's good for the heart, good for the libido."
Staples has remortgaged his home three times in the last 10 years to buy bordeaux. Last year he recommended his mother-in-law buy five cases of a particular bordeaux at £2400. These are now selling for £7800. Chateaux producing the wine have responded to the surge in interest, investing in sophisticated machinery and a more rigorous selection policy for their grapes.
A taste among a new generation to consume bordeaux much earlier than their predecessors has been driven by an earlier ripening of the grapes, in part due to hotter summers in France. Vineyards have also stripped leaves to give grapes more sun while leaving them longer on the vine so they are softer and sweeter.
"It's coincided with a new style of bordeaux," said Adam Lechmere, news editor at Decanter magazine. "The vintages are drinkable much younger"
Staples is confident heightened global demand means bordeaux prices will not fall even if the British economy enters a double dip.
But others are wary. "People who work in the City of London tell me this has all the hallmarks of a Bordeaux bubble," Lechmere said.
- OBSERVER