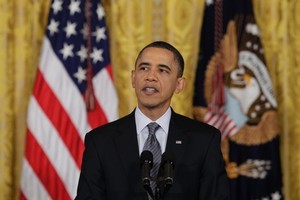 Barack Obama will need to use every trick in the book to save the American economy. Picture / AP
A vision of what might have been, a ray of sunlight through a cloudy sky?
In 2001, the United States Congress' Budget Office produced figures based on a normal 10-year projection of American finances. For the years 2009 to 2012 it forecast an annual surplus of US$850 billion.
Now contrast that forecast, made 10 years ago, with America's current financial position. "Dire" is an appropriate word - this month, Standard & Poor's, the US-based financial services company and one of the world's big three credit rating agencies, downgraded the US credit outlook to "negative".
That judgment was made after consideration of these figures: US debt, which equalled 97.3 per cent of gross domestic product last year, was US$14.26 trillion last month; gross debt in America has increased by US$500 billion each year since 2003.
Yet perhaps the most astonishing figure of all is this - as the worldwide recession raged, US spending last year increased US$1.7 trillion under President Barack Obama.
No wonder the man has launched his re-election campaign, surprisingly early. He may need a fair amount of time to convince Americans he's a guy worth keeping.
How has this been allowed to happen? What have been the seismic events that have conspired to create what the New York Times recently called "a $2 trillion swing"?
The newspaper apportioned blame, or responsibility if you prefer, in this way.
The recession, or the downward business cycle : 37 per cent.
Policies of George W. Bush: 33 per cent.
Policies of Bush supported or extended by Obama: 20 per cent.
New Obama policies: 10 per cent.
America's wars in the first decade of this century, in Afghanistan (2001) and Iraq (2003), have been hugely expensive. But perhaps the most damning of all those statistics is the last. For even as the world economy collapsed, the Obama Administration was still spending like the Russians were in New Jersey.
That crass irresponsibility surely ought to become its political obituary.
We know that much of Europe - the likes of Greece, Ireland, Portugal and Britain - is going to hell in a handcart.
Ireland, with a frightening debt figure of 96.2 per cent of GDP (higher even than Portugal's 93 per cent) was this week told it must pay a record 12.03 per cent interest rate because of its further reduced credit rating.
Ireland's debt burden rose the most in the Euro zone last year, by 30.6 per cent, pushing the yield on securities above 12 per cent for the first time since the Euro region's creation.
Greece is a basket case with a debt of 142.8 per cent of GDP. In Britain, too, the figures are frightening. Britain's annual borrowing figure for this year is £149 billion, a legacy from the past Labour Government that has triggered a wave of cost-cutting and tax raising that is starting to have serious social consequences.
The annual cost of British borrowing is said to be around £43 billion a year.
And Japan? Scary, even before the tsunami struck. Its debt is 194 per cent of GDP compared with America's 82 per cent. Only Zimbabwe has a worst ratio than the Japanese, although Italy, with 119 per cent debt of GDP, has serious concerns.
Britain's debt ratio of GDP is forecast to reach 100 per cent next year. It was only 180 per cent at the end of World War II, a catastrophe that bankrupted Britain for decades.
But due in part to a £110 billion austerity plan by the Coalition Government, the rates paid by Britain on its debt are as low as those of Germany, the eurozone's economic powerhouse.
Yet somehow, everything seems to revert to America. But even as late as last year, the budget proposed by Obama contained significant debt increases. US financial authorities now believe overall American debt will nearly double to US$20 trillion by 2015 and will be almost 100 per cent of GDP by 2020.
The US Office of Management and Budget forecast recently that by the end of next year gross federal debt will reach US$16.3 trillion or 101 per cent of GDP.
One estimate suggested that by 2080, US debt will be 600 per cent of GDP.
Obama and the Republican-controlled House of Representatives recently concluded a deal to trim US$38.5 billion off this year's budget. Yet that deal came only at the 11th hour as a partial government shutdown loomed.
Such a figure is a start, but the feeling persists in the US that Obama and his Administration are not serious about really tackling the deficit. But for the increasingly powerful Republican voice in Washington, not even that modest sum would have been saved.
Perhaps the most alarming thing is this. If the world's only remaining superpower still isn't serious about this financial implosion that has devastated much of the world, how will most countries ever see the light of salvation?
One final figure offers a withering indictment of politicians like Obama and their policies.
By 2015, the collective debt of the so-called rich countries is expected to have reached 110 per cent of their GDP.
In International Monetary Fund circles, an acceptable working debt figure is 40 per cent.
Enough said.