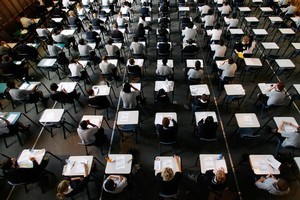 Ten per cent of head teachers in Britain have been assaulted by a parent or carer during the past five years, figures to be disclosed this week reveal.
Most of the assaults took place on the school premises - often when the parents came to complain about a child being excluded from school.
They include teachers being hit by chairs thrown by angry parents and one being subjected to "a serious kicking attack ... I was badly bruised and had difficulty walking for a couple of days", he told researchers.
One female head told how a parent scratched the word "bitch" on her car.
She said: "It wasn't an assault on me but it left me very, very shaken and traumatised. Police orders were required to protect the school from the parent."
The cases are reported in a survey of more than 500 heads to be published by Britain's National Association of Head Teachers at its annual conference.
Association secretary Russell Hobby said the mantra of "parent power" repeated by successive governments may have led people to believe they could have more of a say in the running of their school and be more aggressive in their demands.
"We may have excluded their child from school or sometimes banned them from the premises," he said.
"I'm not against parents having a real say in the way their schools are run, but sometimes you have to make choices and decisions that displease."
The Government has revealed its own plans for a crackdown on bad behaviour in schools. But it concentrates on dealing with pupils, giving greater powers to teachers to confiscate items such as mobile phones.
It also gives more power to heads over exclusion of pupils, allowing appeals panels against exclusion only to review cases, rather than order youngsters be taken back into the classroom.
But it has little to say about unruly parents, although schools have been encouraged to get parents to sign good behaviour contracts.
Other cases from the survey include one head who said she had been "punched in the face, bitten, kicked, spat at, had a hand put down her T-shirt to grab her boobs and had her hair pulled".
- INDEPENDENT