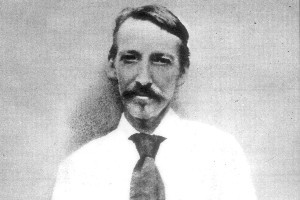 The literary betrayal of one of the most popular writers in the English language, Robert Louis Stevenson, is to be avenged in the first collected edition of the Scottish writer's little-known Samoan fairytales.
Stevenson, the author of the classic adventures Treasure Island and The Strange Case of Dr Jekyll and Mr Hyde, spent the last years of his life on the Samoan island of Upolu where he wrote a series of fantastic tales and fables which he specifically asked to be published as a set.
However, instead of complying with the writer's request, his literary agent, Sidney Colvin, asked Cassell to publish two of the fairy stories - The Bottle Imp and The Isle of Voices - in a volume alongside a naturalistic short story of a completely different type.
"Colvin, his supposed friend back home, stitched him up. He decided they should be published together because he thought he knew what was best and what would make the most money," said Bill Gray, professor of literary history at Chichester University, England.
Gray, who is also director of the Sussex Centre for Folklore, Fairy Tales and Fantasy, at Chichester University, has campaigned for six years to have Colvin's decision remedied.
"Stevenson wrote that 'on no account should these stories appear together' in his letter to Colvin and he underlined the point. Colvin deliberately did exactly what he said he didn't want and then it was all put down to communications problems," said Gray.
Following literary arguments put forward in a conference paper given by Gray in Edinburgh, the city's University Press is to publish a fresh edition of Stevenson's fairytales.
Some of his fables were published in 1896, but Gray's edition will be the first time they have all appeared together and in the order Stevenson wanted.
- OBSERVER