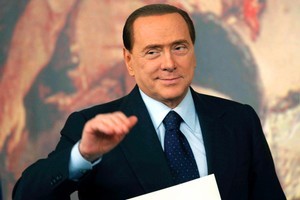 As Silvio Berlusconi's ever-outraged political enemies reeled from the news that he had saved his bacon and possibly his liberty once more by forcing proposals through Parliament that will protect him from a bribery prosecution, they could at least take consolation that the Italian Premier has suggested he will finally stand down in two years.
Centre-left MPs shouted "shame" as Berlusconi's centre-right coalition voted late on Wednesday to shorten the statute of limitations for some criminal cases - including crucially, the one in which the Premier is accused of having paid British lawyer David Mills US$600,000 ($755,500) to lie under oath.
But about 15,000 other trials may also be killed off prematurely and thousands of people denied justice, according to the body governing Italy's judiciary. Victim groups yelled abuse outside Parliament while MPs voted.
A jubilant Silvio Berlusconi hailed his renewed parliamentary strength following the vote: "We'll charge ahead like a train, with all the other reforms, beginning with those for justice," he said.
"The left was a sorry spectacle."
Hours earlier, the Prime Minister, 74, had told a small group of foreign journalists he intended to step down in 2013 - and would like to pass the torch to Justice Minister Angelino Alfano, 40, who had guided the controversial legislation through Parliament.
Berlusconi's wish to carry on for two more years is an indication of his remarkable resilience - and the parlous state of Italy's parliamentary democracy that has allowed him to continue, despite a combination of scandals and political stagnation that would almost certainly have sunk any other western leader 10 times over. He is involved in two other trials in which he faces charges for tax fraud, sex with a minor and abuse of office. He denies all the charges.
A further shadow was cast over the proceedings when it emerged that some opposition MPs, including possibly centre-left Democratic Party members, had voted for the controversial changes to the justice system. In the past six months as the charges of sleaze have piled up against Berlusconi and his majority in the Lower House has shrunk, the Premier's parliamentary block has been accused of buying votes. It has denied this.
The law changes must return to the Senate for final approval, but the Prime Minister has a solid majority.
- INDEPENDENT