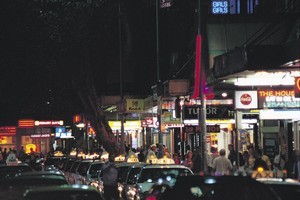 Kings Cross residents have long put up with a side-effect of living in Sydney's most popular nightlife area: their neighbourhood smelling like a urinal at weekends.
Now the city council is planning to trial mobile outdoor men-only urinals, in the hope of dissuading men from falling out of pubs and relieving themselves in the street. The units will be tested at four "public urination hotspots" over the next month, and if successful, they will be rolled out in greater numbers every Friday and Saturday night.
Already deployed in London and Amsterdam, the urinals - each of which can be used by four men at a time - hold 450 litres, or about 1500 individual pees. The City of Sydney hopes they will reduce its annual cleaning bill of A$7 million ($9.4 million) from public urination. The council's late night economy manager, Suzie Matthews, said residents had been complaining for years about men urinating on their doorsteps, in driveways and on walls.
Research showed that although revellers ignored permanent public toilets, they used the mobile urinals. The trial locations - in Kings Cross and Darlinghurst - have been chosen based on anecdotal evidence of where the problem is worst. The units will be removed on Saturday and Sunday mornings.
While some locals said the urinals would be an eyesore and police should be enforcing the law against offensive behaviour, others welcomed it. Christine Byrne, who lives near Darlinghurst, said that when she looked out on a Friday or Saturday night, "I cannot tell you the number of people I see using the front of people's homes, the footpaths, terraces and driveways of apartment blocks as urinals".