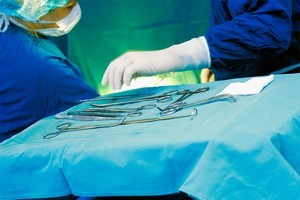 A new gel developed by researchers in Australia and New Zealand will aid healing and eliminate scarring for millions of people undergoing nasal surgery around the world.
The gel, produced from shellfish and squid, is used as a wound dressing for the nose.
It was co-developed by the researchers at the universities of Adelaide and Otago and the Wellington-based company Robinson Squidgel.
Global medical technology company Medtronic has bought the patent for the nasal dressing for an undisclosed sum.
In the US alone more than 500,000 nasal surgery procedures are conducted each year with several million performed worldwide.
University of Adelaide ear, nose and throat surgeon Peter-John Wormald said the gel had important blood clotting abilities and formed a coating over the wound to prevent scarring.
"Currently, up to one third of all people who undergo sinus surgery experience blocked nasal passages afterwards due to scarring and this requires further surgery to correct," Professor Wormald said.
"In the past, surgeons would pack the nose with ribbon gauze to stop the bleeding and prevent adhesions.
"Unfortunately, this was very uncomfortable and painful for patients.
"This new gel is placed into the sinuses after surgery and is very effective in controlling bleeding.
"The gel slowly dissolves over two weeks, allowing the sinuses to heal properly, preventing scar tissue from forming in the nose."
Prof Wormald said the new product marked a significant advance for ear, nose and throat surgeons and their patients.
- AAP