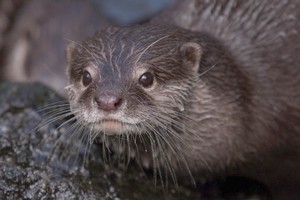 The return of the otter in England is causing problems for commercial fisheries, which are resorting to unusual remedies.
Otters threatening an angling club's prize fish, worth thousands of pounds, are being kept away with a novel deterrent - lion dung.
The regal poo from London Zoo is "very, very pungent", and is the key ingredient in a smelly protective spray being used around its fishing lakes by the Whitbourne Angling Club in Worcestershire. And club members say it's working.
Otters turned up 18 months ago at the fishery, which is linked by a brook to the River Teme, and began to eat some of the large carp, tench, perch and roach. But once the lion dung spray was used, they "vanished overnight", according to club secretary Ian Miller.
Although the remedy seems bizarre, its use is being watched by the Environment Agency, which is responsible for angling in England and Wales.
There is now increasing conflict between Britain's resurgent otter population and commercial fisheries. Many fisheries hold enormous "specimen" fish, such as carp weighing 22.5kg, which are caught by anglers but always put back to be caught again.
If they are lost to otters, the cost of replacing them can be huge. "Big fish are incredibly valuable - a [18-22kg] mirror, common or leather carp would cost £25,000 ($48,000) to replace," said Miller, a retired agronomist.
Under the Wildlife and Countryside Act 1981, otters are protected and cannot be killed. Only "passive" defences can be used, such as otter-proof fencing - the cost of which can be prohibitive.
Otters disappeared from eastern and central England in the mid-50s, probably because of the introduction of organochlorine pesticides. In the 90s, as river water quality improved, otter numbers began to bounce back.
- INDEPENDENT