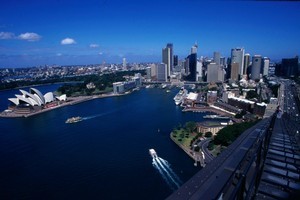 Commonly regarded as people who worship mainly football and the beach, Australians have a high level of interest in mainstream religion, a report says.
The report, based on the biggest survey of religious attitudes for more than a decade, also found entrenched hostility towards Muslims and discrimination against followers of nature-based pagan religions.
The latter are often confused with Satanists, and they complain that pagan marriages are not recognised.
An increasingly diverse population is finding it difficult to accommodate religious difference, according to the survey, conducted for the Australian Human Rights Commission.
"The research shows that there is a pressing need for education about religions, if we are to reduce ignorance and fear, while promoting intergroup respect," said the Race Discrimination Commissioner, Graeme Innes.
Nearly 40 per cent of Australians say religious faith or spirituality is important, or very important, in shaping their career, relationship and lifestyle decisions.
And while 64 per cent call themselves Christians, the flowering of other religions and of a strong secularist voice means "Australia is partly a Christian country, partly a multi-faith country, and partly a secularist country", says the report.
Thanks to a steady influx of Chinese immigrants, Buddhism is now Australia's second largest religion. But Islam is also growing fast.
So is anti-Muslim sentiment, according to adherents of the faith, who cite discrimination against women wearing the hijab and obstacles in building mosques, schools and community centres as some of the problem areas.
Researchers - who consulted more than 200 religious, secular and community groups as well as receiving more than 2000 public submissions - found that some Australians fear the introduction of sharia law, with their fears "heightened by a sense that Governments appease Muslim communities".
But others are concerned about the welfare of Muslims facing prejudice in Australia.
"There is a current of anti-Muslim discourse that suggests an entrenched hostility often related to overseas events," states the report, which is entitled Freedom of religion and belief in 21st century Australia.
Some 30,000 Australians call themselves pagans, and the Pagan Awareness Network says it has "faced an uphill battle in its attempts to be included in interfaith initiatives".
Pagans "reported high levels of prejudice, discrimination and a lack of recognition of their belief".
The survey also uncovered prejudice and hostility towards gay people, particularly in relation to employing them in faith-basedschools.