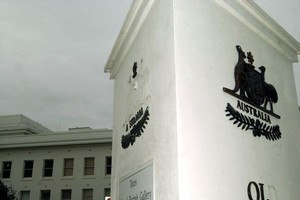 A tribunal has upheld a race discrimination complaint against a legal definition used to deny disaster recovery payments and social security to thousands of New Zealanders living in Australia.
The decision against ACE Insurance Ltd opens the way for more anti-discrimination action against companies and state governments across Australia, successful applicant David Faulkner claims.
His race discrimination allegation against the company was over rules limiting its American Express Repayment Protection (AERP) policy to "Australian residents".
That excluded New Zealanders defined as "non-protected" visa holders under the Family and Community Services Legislation Amendment (New Zealand Citizens) Bill 2001, because they arrived in Australia after February 26, 2001, or who were on long-term trips overseas on that date.
The same social security law has been used to deny disaster recovery payments to thousands of Kiwis caught up in the Queensland floods and Cyclone Yasi and to stop social security for sick and disabled New Zealanders.
It is thought to affect up to 176,000 people - or 47 per cent of the New Zealanders living in Australia.
Mr Faulkner had moved to Australia in 1970, when he was six years old, but has a non-protected Visa because he was stationed overseas on a long-term work placement on February 26, 2001.
After repeated complaints to the company over its refusal to cover him, he lodged a suit with the Equal Opportunities wing of the New South Wales tribunal in September 2009.
Its verdict, delivered in February, upheld an allegation of indirect race discrimination and required the company to change its policy.
Mr Faulkner was denied benefits that would have been available to Australians because of his status as a New Zealand citizen, the decision stated.
"The Tribunal concludes that Australian citizens, in the same circumstances, or circumstances not materially different, would not have been refused cover under the AERP Policy by ACE.
"This finding is sufficient to establish that Mr Faulkner was treated less favourably than a person of a different citizenship or nationality."
The tribunal decision could set a precedent which could be used against Australian state governments in future cases, said Mr Faulkner.
"In effect, the Equal Opportunity Tribunal found that the definition of 'Australian resident' in the Social Security Act discriminates against New Zealanders.
"There are governments across Australia doing virtually the same thing. They directly use New Zealand citizenship as a reason to reject you.
"The ramification is that you could see major class action by Kiwis that have been discriminated against. The direct implication is that all companies who have been using this definition of Australian resident will have to review their polices."
The Queensland state government has already confirmed to Mr Faulkner that it is reviewing its eligibility criteria for public housing assistance in light of the decision against ACE Insurance.
New Zealander Glenda Campbell, whose 19-year-old daughter Hannah needs 24-hour care for severe cerebral palsy, is one of those who is taking action over what she sees as discrimination.
The Toowoomba resident has been turned down for three federal disability support allowances since arriving in Australia in 2006.
She is preparing to lodge a human rights complaint against the Australian Government with the United Nations and considering a claim of discrimination against the Queensland Government.
"I'd like to see everyone who comes to Australia in our situation get treated well. We're ANZACs, after all. But this is discriminatory."
Hank Jongen, manager of Australian social security agency Centrelink, would not discuss the case of Ms Campbell for privacy reasons.
But he said a range of support payments could be available to New Zealanders on non-protected visas, including the Disability Support Pension if a person is deemed severely disabled.
Foreign Minister Murray McCully recently said he was "concerned" at New Zealanders being denied social security payments in Australia.
There was no similar non-protected visa status for Australian immigrants in New Zealand, he said.
"No doubt this is a matter we will discuss with our Australian colleagues in due course."
But he was reluctant to criticise the Australian Government over the imbalance, as it was dealing with a far greater number of immigrants than the New Zealand Government.
"I understand the changes that took place in 2001 were designed to deal with substantial cost pressures that emerged as New Zealanders took access to the welfare system there.
"The situation is different because the numbers are vastly different."