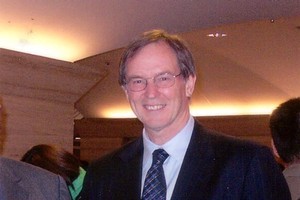 As many as 6000 New Zealanders could be in quake-stricken Japan, says New Zealand's ambassador there.
A magnitude 8.9 earthquake struck Japan yesterday, at a depth of 24km, about 125km off the eastern coast, causing widespread devastation and the death toll has been estimated will climb to about 1000.
About 3500 New Zealanders were registered with Japanese authorities as living in Japan and it was likely at least a further 3000 New Zealanders were visiting the country as up to 30,000 New Zealanders visited each year, New Zealand ambassador to Japan Ian Kennedy said.
He urged New Zealanders, who had been in contact with friends or family in Japan, to contact New Zealand's Ministry of Foreign Affairs and Trade (MFAT) on 0800 432 111 to let them know people were safe.
Mr Kennedy, in Tokyo, described the quake as "pretty hair-raising".
"It seemed to be going down and then it started a rocking motion, which was very unnerving," he told Radio New Zealand.
"It must have been horrific for the people closer to the epicentre."
A MFAT spokesman said 756 New Zealander were registered with the ministry as travelling in Japan.
The number was an estimate because not all travellers registered with the embassy.
MFAT was today not aware of any New Zealand casualties in Japan, but would be alerted by Japanese authorities if there were, the spokesman said.
Meanwhile, Civil Defence and scientific advisors are monitoring the the severity of the threat to New Zealand.
Civil Defence this morning downgraded a tsunami warning to a marine threat and minor land threat for coastal areas between Northland and the Bay of Plenty and the Chatham Islands.
The first waves, of just over 1m, were expected to hit the top of the country from about 6.30am and the last place expected to be hit was Nelson, about 11.15am.
People in coastal areas were warned to stay off beaches and out of the water.
The threat forced the cancellation of 90 Mile Beach's Captain Morgan Snapper Bonanza fishing competition.
Police, Fire Service and Department of Conservation have evacuated campers and a cordon is in place at the beach.
Northland Civil Defence spokesman Graeme MacDonald said the largest waves were estimated to arrive at 8am.
The height of the waves was likely to be between 20-50cm and up to 1m between Ahipara and the Karikari Peninsula, the Bay of Islands.
"Tsunami activity such as unusual currents and changes in sea-level will continue and we are advising everyone to stay off beaches and out of the water, throughout Northland," he said.
In the Bay of Plenty a 50cm wave was thought to be the most likely scenario, some time between 8am and 2pm and strong and unusual waves and currents could affect beaches and estuaries.
A 4m tsunami washed away cars and tore away buildings along Japan's eastern coast near the epicentre of the massive quake which struck at 2.46pm (6.46pm NZT).
At least 90 people were confirmed dead but 200-300 bodies were reportedly found on a beach in the north-east city of Sendai.
- NZPA