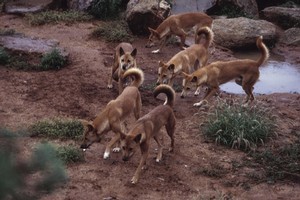 A decade after a 9-year-old boy was killed by a dingo on Queensland's Fraser Island, wildlife authorities are being accused of mistreating the island's native dogs, which conservationists claim are starving and in danger of extinction.
Home to one of Australia's purest remaining dingo strains, Fraser - the world's biggest sand island - is a popular tourist destination, with the wild dogs a key attraction. In April 2001, the two worlds clashed with fatal results, when Clinton Gage, who was camping on the island with his family, was mauled to death by two dingoes.
The Queensland Government responded with a collection of draconian measures aimed at limiting human-dingo encounters. Fences were built around resort areas, campgrounds and rubbish tips; fines were imposed on people caught feeding the 200-plus dingoes; and rangers - who killed 28 animals soon after Clinton was attacked - continue to destroy those that display aggressive behaviour.
Now dingo advocates claim the clampdown has gone too far. Banished from populated areas of the World Heritage-listed island, and with little wildlife to prey on, the dogs are dying of starvation, they say. They also believe the introduction of ear tagging has made the dingoes less effective hunters, while the practice of "hazing" them - firing clay pellets to move them off beaches - causes injuries and stress.
Dr Ian Gunn, a veterinarian based at Melbourne's Monash University, warns that Fraser's dingoes could go the way of the thylacine, or Tasmanian tiger, hunted into oblivion in the 1930s after being blamed for livestock deaths.
"When you see the condition of these animals ... if I owned them, I would be prosecuted for animal cruelty," he says.
"If this continues, the dingoes on the island will become extinct."
The Queensland Parks and Wildlife Service (QPWS), though, insists there is no evidence to back that claim, and denies that the animals are short of food, saying they are naturally lean and their pups have always had a high mortality rate.
"Dingoes are still widespread across Fraser Island, they are breeding very effectively, and on average they are 3-5 kilos heavier than their mainland counterparts," says Terry Harper, the QPWS's senior director of marine parks. "As a population, they are in very good condition."
Recently, the controversy has crystallised around Jennifer Parkhurst, a wildlife photographer who was fined A$40,000 ($54,500) and given a nine-month suspended jail sentence last November for feeding and "disturbing" dingoes on Fraser. Parkhurst, a founder of the Save Fraser Island Dingoes group, had spent years photographing and observing the animals.
While Parkhurst has become something of a martyr figure, not all conservation groups support her. The Fraser Island Defenders Organisation, set up in 1971 to oppose sand mining on the island, disputes that Fraser's dingoes are under threat. It maintains that supplementary feeding of the wild dogs would be "disastrous", triggering a population explosion and destroying the traditional pack structure.
Research published last year suggests that the dingo - whose ancestors were introduced to Australia about 4000 years ago by Asian seafarers - is the world's oldest breed of dog. On the mainland, interbreeding with domestic and wild dogs has led to increasing hybridisation, but on Fraser Island - because of its isolation - the population has remained genetically pure.
Dingoes have always been valued by Aboriginal people: as companions, hunters and watchdogs. Critics of the steps taken to separate humans and dogs on Fraser point to that fact. But Harper says that the island's 350,000 annual visitors, who come from all over the world, cannot be expected to know how to interact with the dingoes safely.
Gunn, who is vice-president of another lobby group, the National Dingo Preservation and Recovery Programme, rejects Harper's assertion that the Fraser population is healthy. He believes there are only 40 to 50 breeding animals on the island, not enough to maintain genetic viability. Autopsy reports on 90 dogs, obtained via Freedom of Information requests, show that most died of starvation.
In Europe and the United States, says Gunn, confrontations between campers and wild bears have been minimised by setting up feeding stations. He also suggests that aggressive animals, rather than being culled, could be relocated to mainland reserves.
"This is a World Heritage site, and the authorities looking after it have a moral responsibility to protect the flora and fauna. I fail to see that's happening,"he said.
Both sides of the debate brandish photographs, showing, variously, healthy-looking or emaciated dingoes. Karin Kilpatrick, secretary of Save Fraser Island Dingoes, believes the removal of brumbies, or wild horses, from the island - previously a source of food for the dogs - "created a hunger situation".
That, and a sharp increase in the number of tourists, led to problems never experienced in the past, according to Kilpatrick. She, too, fears for the dingoes' future.
But Harper says the dingoes' main problem is "habituation" - becoming accustomed to humans as an easy source of food, and then becoming dangerous.