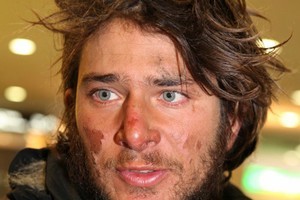 Norwegian adventurer Jarle Andhoy's tragic expedition to the South Pole is the latest in a sequence of controversial seafaring journeys the 34-year-old has attempted in the world's polar regions.
His problems with authorities began in June 2002 when he left the Norwegian port of Longyearben on Svalbard with the goal of following the path of the Viking chief Ohthere and to travel as far north as possible in the Arctic circle.
Although Andhoy claimed the voyage set a world record for the distance travelled northwards in open water, he was criticised by Norwegian authorities who fined him for sailing without insurance and failing to submit a route plan.
Andhoy was also fined 20,000 Norwegian kroner ($4731) and was refused permission to continue in Svalbard's waters.
He refused to pay the fine and when taken to court in 2003 he and his crew members Alex Rosen and American film-maker David Mercy faced fresh charges of environmental crimes, including unauthorised landings in protected areas and provoking a polar bear.
They were found guilty in March 2004 and placed on a two-year probation.
However, four months later Andhoy and Rosen attempted to continue the voyage before diverting to the Baltic Sea.
In the northern summer of 2007, Andhoy undertook a new expedition to explore the Northwest Passage, sailing from the Atlantic to the Pacific Ocean along the Canadian coast, infuriating authorities there.
But in early July two of the crew were arrested after the vessel was boarded and searched. Andhoy was also detained shortly afterwards after attempting to free one of his crew and smuggle him across the US-Canada border.
Andhoy and 18-year-old companion Samuel Massie had their latest run-in with officialdom in Christchurch yesterday when they were questioned by Norwegian consular staff shortly after arriving from the US Operation Deep Freeze base at McMurdo Sound.
The three other members of the Wild Viking expedition are missing, presumed dead, after their yacht Berserk disappeared a week ago.
- NZPA