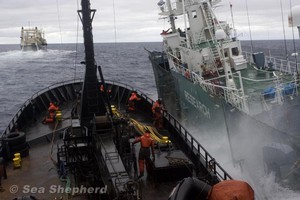 Activists tailing a Japanese whaling ship say it has turned around and is on course for Japan.
Japanese Fisheries Agency official Tatsuya Nakaoku earlier said the whaling fleet was suspending its operations in the Southern Ocean following sustained pressure from anti-whaling group Sea Shepherd.
"Putting safety as a priority, the fleet has halted scientific whaling for now.
"We find Sea Shepherd's harassment extremely regrettable." Mr Nakaoku said.
Sea Shepherd captain Alex Cornelissen, who is on board a vessel shadowing the whalers' factory ship, the Nisshin Maru, said the whaling ship had this morning done a 180 degree turn and was heading back in the direction of New Zealand and Australia.
This was the logical route it would take if it was going back to Japan, he said.
"It's looking very much like they've thrown in the towel and heading back to Japan, we're definitely moving in the right direction.
But another Sea Shepherd captain, Paul Watson, said he was suspicious about the true movements of the Japanese.
"They're going one of two places: they're either doing a great circle to Japan or they're going back to the whaling grounds.
"We haven't got a confirmation in Japan so there's really no 100 per cent guarantee that they're going to leave."
Foreign Minister Murray McCully said the Government was unable to confirm that whaling activities in the Southern Ocean had been suspended.
"The signals coming out Japan aren't clear on that yet. But whatever the case, it's clear that we still need to confront the process of negotiating a resolution to that question.
"We've got open lines both here and in Tokyo and we are trying to get some clarity around those issues. I'm still pushing as actively as we can to try to find a way through this. We want to see a cessation long term to whaling in the Southern Ocean."
Glenn Inwood, a New Zealand consultant working for Japan's Institute of Cetacean Research, said no decision had been made to end this year's whale hunt, but it had been suspended.
"In my view, the government of Japan had little choice but to suspend the research after Sea Shepherd found the Nisshin Maru, given Sea Shepherd's propensity for extreme violence and Japan's desire to protect its nationals.
"This must be a very concerning development for both the governments of New Zealand and Australia. While those countries want to eliminate Southern Ocean whaling, they need to ask whether they want to achieve that by aiding and abetting what is a terrorist group committing life-threatening acts on the high seas through providing access to Australian and New Zealand ports.
"If Japan cannot solicit support from Australia or New Zealand to prevent their ports from being used by Sea Shepherd, it's evident from the latest developments that it will need to take increased responsibility for protecting itself in the Southern Ocean."
A New Zealander on board Sea Shepherd's vessel the Bob Barker, Michael May, was confident the whaling ship's change of direction marked an end to its whaling season.
Mr May was also optimistic it would ultimately spell an end to whaling in the Southern Ocean.
- NZPA