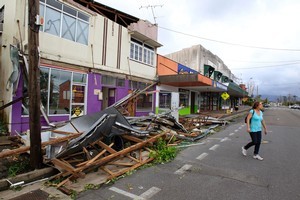 The far north Queensland town of Tully is emerging as one of the worst-hit by Cyclone Yasi, with a local councillor estimating half of the homes have been damaged.
Cassowary Coast Regional Council's Ross Sorbello took shelter in a car under his mother's home during Wednesday night's category five storm, which lashed the area around Tully with wind gusts of up to 300km/h.
Premier Anna Bligh has promised emergency workers will get into the town as soon as they are able, but so far there have been no reports of deaths or injuries.
The first reports from authorities there say 90 per cent of the main street has suffered "extensive" damage.
Mr Sorbello said the roof of his home blew off and he believed it would have to be demolished.
Other homes in his street also suffered roof damage, he said.
"It was very horrific," he told ABC Radio on Thursday.
"By about midnight she started to blow here like I've never seen before in my life.
"I went through Larry ... twice as bad as that."
Mr Sorbello had initially sheltered in his bathroom with his mother and wife until louvres were broken by flying debris and they were forced to move.
"I'm tipping that anywhere between 20 and 50 per cent of the houses in Tully have got structural damage of some degree or another, some of them quite extensive," he said.
Cane farmer Vince Silvestro said he wouldn't be surprised if the damage was more extensive than that.
"There's so much damage it's just incredible," he told AAP.
"Our crops are completely destroyed.
"... The countryside is completely stripped, the trees, even the hospital's damaged.
"When I woke up it looked like what it would have looked like in World War II or something if the city had been bombed."
Mr Silvestro, 56, said he had been through several cyclone but Yasi was "terrifying".
He said his shed blew up but his home was only water damaged.
But his daughter's home was smashed by debris and his niece had roofing from five different houses in her back yard.
Retired cane farmer Dawn French told AAP a sheet of iron was blown off her tractor shed into her kitchen.
"A piece of iron flew off, hit my glass windows, ripped off the guttering and put water throughout my house," Ms French said.
"It's ruined my bathroom and toilet completely. I just put in a new kitchen and floor coverings.
"It's just devastating."
Red Cross worker Noelene Byrne decided to move the evacuation centre from Tully's senior citizens hall on Wednesday night because she feared the 10 people there would not be safe. "I'm now in front of the senior citizens and it's one mangled heap," she told ABC Radio on Thursday morning.
"Had I left people there, there would have been loss of life.
"The destruction there is just heartbreaking.
"It's just the front wall of the hall that's standing, the rest is just one big scrap heap."
Innisfail District Disaster Coordinator Inspector David Tucker said police were aware of significant damage in Tully, as well as Mission Beach and surrounding areas.
First-hand in Innisfail, he had seen stripping of trees, trees fallen on roads and over fences.
"That means that livestock are wandering the roads which is another reason as to why members of the community need to be very careful when using the road network," Insp Tucker said.
- AAP