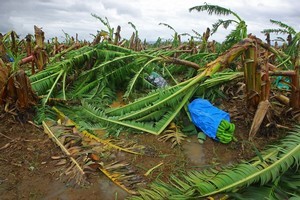 A Westport couple unable to escape Cairns before Cyclone Yasi hit overnight felt so safe in their hotel they slept, then watched the huge storm from their balcony.
Geoff and Vonny Bruning's flight to Sydney was cancelled yesterday morning, forcing them to return to their seaside hotel at Trinity Beach, about 20km northeast of Cairns.
They slept in their clothes fearing they would have to evacuate to the hotel stairwell. But Mrs Bruning said they were able to stay in their fourth-floor apartment, and caught up on the sleep they had lost the night before when they had to be at the airport at 4am.
The power had stayed on and they were able to watch the latest news on television. Their family back in Westport was more worried than they were.
"For us it was pretty low key really," she told the Westport News today. "We had a lot of faith in our building Even the locals abandoned their place down by the water and came and booked into the hotel too."
Their hotel was on a rise just a few metres from the sea, but the winds came from the opposite direction, she said.
"We didn't get the full impact coming at us, we're on the lee side of it Because the wind was coming from the opposite direction we were out on the balcony watching it."
There was no storm surge and the swells were not huge. The only damage they could see was a palm tree felled in front of their hotel. "We've got a lot better view out the front now."
Surprisingly there was little rain, she said.
The Westport couple had spent yesterday taking their rental car back to the hire company, buying food at a nearby supermarket, and watching television reports. Mrs Bruning said the locals had seemed fairly relaxed.
"They were pretty blase, just laughing about it. They're used to a lot of storms around here."
The cyclone began to affect Cairns about 5pm (7pm NZT).
The eye passed south of Cairns around midnight.
By this morning the wind had changed direction and was coming off the sea, Mrs Bruning said.
About 12.30pm today, New Zealand time, authorities warned a second, more dangerous storm surge was hitting Cairns, Townsville, Rose Bay and surrounds.
However, Mrs Bruning said at 1.15pm (NZT) that she could see no evidence of any storm surge from her hotel and some emergency personnel were shifting out.
"We haven't been given the all clear yet but I don't think it will be too far away."
Wind gusts were still strong, but it wasn't raining, she said.
She and her husband hoped to catch a flight home tomorrow, she said.
The couple had been in Cairns for the 30th birthday of Mr Bruning's daughter, Claire Aylott. Mrs Aylott, her husband Daniel and their three children evacuated their home in the expected storm surge area on Tuesday night and drove eight hours to Mackay.
Mrs Bruning said no one had checked on her stepdaughter's home so far this morning. "But there's really not a lot of damage so far reported anywhere so we're assuming everything's okay with it."
Mrs Aylott's stepfather, former Westport man Ron Pearson who now lives at Netherdale west of Mackay, said authorities should have provided more, and better, evacuation centres.
They had opened six centres in Cairns and had to open a seventh, a shopping mall, because the centres were full, he said.
"This was in a city of 160,000, with 30,000 instructed initially to leave their homes because of a threat of tidal surgeThey could have, should have, planned better."
Mr Pearson said many of the evacuation centres were public buildings not designed to protect evacuees, who were told to take their own bedding, food and medications. Pets were prohibited and backpackers and visitors were turned away.
"Bloody unreal. Yet the authorities concerned have had accurate information from world computer sites of what to expect for more than a week," he said by email.
His own home had escaped unscathed but was again locked in by floodwaters.
- NZPA