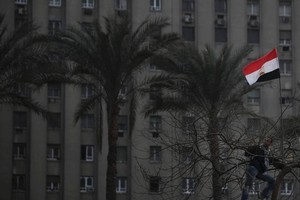 A former Auckland family have accused the New Zealand Embassy in Cairo of not doing enough to help them out of Egypt.
More than 100 people have been killed and thousands injured in anti-Government riots as protesters demand that President Hosni Mubarak resign. There are also reports of widespread looting, vandalism and opportunistic crime.
There are 295 New Zealanders in the country and Prime Minister John Key has said New Zealanders shouldn't be travelling to the country.
Kiwis Kyle and Caroline Brewerton are stranded with their two children Stone, 7, and Nova, 4, in the city. The couple teach at New Cairo British International School where Mr Brewerton is deputy principal. In an audio clip sent from the city, Mr Brewerton said he lacked faith in the embassy which didn't seem to understand his family's fears.
"We've got tanks at the end of the street, we've had mobs moving down the street at 3 o'clock in the morning.
"Fortunately for us the school I'm working for had organised [a] flight to get its expat staff out of Cairo and to safety, only to be guzumped by the other embassies in Cairo. We've been talking to the New Zealand Embassy, they've basically turned around and said that the conditions are not that bad and that really it should all blow over in a few days.
"Our concern is, what if it doesn't? What happens then? Do we just hope for the best? Do we have to see a couple of New Zealanders get hurt before we do anything? It would be good to see a bit of action."
New Plymouth lawyer Murray Cochrane, whose 32-year-old son Craig has been trying to flee the country, said shots resounded down the phone line the last time he spoke to his son. Craig was due to leave Egypt yesterday after a five-day escorted tour but found out yesterday his flight had been cancelled.
Mr Cochrane said communicating has been difficult as the Egyptian authorities have clamped down on internet and telephone use, but his son was still able to call New Zealand. They last spoke yesterday, about 10.30pm local time.
"There was gunfire in the background, which I could hear even before he drew it to my attention," Mr Cochrane said. "We optimistically assume for the moment, in the absence of any other knowledge, that nothing worse has happened since that."
His son had been staying only a few kilometres from the epicentre of the unrest on Saturday night. He was now staying at a hotel about 17km from the centre of the city, near the presidential palace. He spent most of yesterday at the airport, and was now scheduled to leave late afternoon Monday local time.
Prime Minister John Key said embassy staff were working in trying conditions, not the least because of the rioting which damaged the ground floor of the building the embassy is in.
Although other countries have put on planes to get their citizens home, Mr Key said he hadn't received advice that's what was needed.
However, New Zealand did have friends in the region such as the UK and US.
"If necessary we'll pick up the phone and try to get New Zealanders up the queue."
A Ministry of Foreign Affairs and Trade spokesman said the Cairo Embassy has activated a "warden system" for New Zealanders caught up in the unrest.
"It is used primarily for putting New Zealanders living in the same area in contact with each other so that in the event of an emergency, there is a network that can help provide individuals with support, advice and assistance."
The ministry is looking to send more resources to Cairo and posting an MFAT consular officer at the airport to provide information and advice.