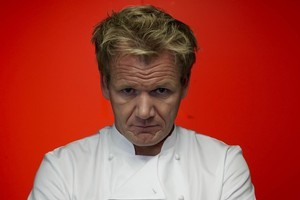 Foulmouthed celebrity chef Gordon Ramsay (pictured), who has campaigned for an end to the slaughter of sharks, has been criticised for a shark fishing trip he took about two years ago.
Britain's Sunday Mirror reported yesterday that just two weeks after fronting a "heartfelt" documentary campaigning for an end to the slaughter of sharks, "newly released evidence shows him straining to land a 7ft (2m) endangered specimen on a fishing trip to Florida".
The newspaper reported that the charity that backed his TV plea was questioning whether he could continue as its patron.
In his programme Shark Bait he attacked the killing of 70 million sharks a year to make soup, with each one tossed back into the sea to die after its fins are sliced off. During the programme he said: "They are beautiful unique individuals."
The Mirror said he was shown going on a shark hunt in Costa Rica and said: "This is hard to watch."
He then persuaded restaurants to stop serving the soup, which is popular in London's Chinatown as well as in China. This led him to being named a patron of the Sharks Trust.
When told of Ramsay's shark fishing trip, the trust's chairman Richard Peirce told the Mirror the trust was "extremely concerned".
The trip happened in 2009 when Ramsay was in Pompano, Florida, to film his television show, Kitchen Nightmares US. A fishing charter boat captain, Harold Heuff, said he had taken Ramsay fishing and the chef had caught a bull shark.
After the shark had been reeled in, Mr Heuff killed it by hooking the shark with a harpoon and dragging it backwards for 10 minutes.
The newspaper said Ramsay had so much fun he booked a second trip when he caught a 3m hammerhead shark.
Mr Peirce told the Mirror: "It's very regrettable that he didn't take the opportunity during the filming of the programme to say he couldn't believe it that, 'I actually caught and killed one of these animals'. If he did that he'd be in a different position now.
"We've asked him for an explanation. No one would expect us to get rid of a new patron who's done a lot of good without speaking to him first."
A spokesman for Ramsay said the trip was taken in 2009, more than a year before Ramsay first talked to Channel 4 about making a film about sharks.