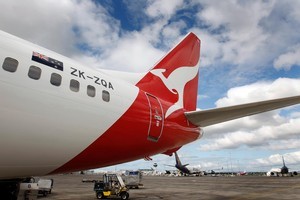 Qantas' mechanical woes continue, with an aircraft flying from Adelaide to Melbourne forced into rapid descent after its cabin depressurised today.
Oxygen masks dropped in the Boeing 737-400 with 99 passengers onboard after its cabin lost pressure about 30 minutes out from Melbourne this morning.
"The flight crew requested a rapid descent to 10,000 feet," a Qantas spokeswoman told AAP.
"The aircraft landed without incident and no medical assistance was required."
She said the cause of the depressurisation was not known, but it could have resulted from an air conditioning fault.
One passenger told ABC radio the depressurisation caused some panic.
"There was a little bit of panic down the back fo the plane and some passengers needed to be comforted by the hostesses," he said.
"One of them (a passenger) was fairly panicked and a couple of hosties tried to fan her down."
Today's incident is the latest in a shocking run for the Australian national carrier, which had to ground its entire A380 fleet in November after one of the Rolls-Royce Trent 900 engines exploded in mid-air shortly after take-off from Singapore.
The total cost of grounding its entire fleet of 1380s, and replacing 16 of the A380 engines, has been estimated at A$80 million ($NZ103.9 million.
The day after the A380 near-disaster, a Qantas 747-400 aircraft had a mid-air incident, with flames bursting from an engine just after take-off from Singapore.