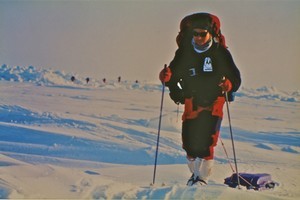 In 1993, he became the first Mexican and Latin American to reach the North Pole on skis - now he wants to become the first Kiwi to go to the South Pole and back on foot.
Immigrant explorer Ivan Trofimoff is also aiming to break the world speed record for getting to the South Pole and back by covering the 2000km Antarctic journey in 55 days or less.
"It is going to be a gruelling challenge but it would be a great way to celebrate being a Kiwi," said Mr Trofimoff, a permanent resident who moved to Auckland from Mexico three years ago.
The first part of the expedition will be a 35-day ski expedition to the South Pole, starting at the edge of Filchner Ice Shelf, and the return will be a 1000km, 14-day kite-skiing journey to Patriot Hills.
Richard Weber, noted for being the only person to have completed seven full North Pole expeditions, will lead the expedition in December, and Mr Trofimoff is expected to be the only Kiwi taking part.
The father of two children, aged 4 and 7, said it was New Zealand's "beautiful snowy mountains and clear rivers" that first attracted him here, and "it seemed right" for him to represent the nation on such an expedition.
"No New Zealander has attempted such an expedition on foot and it will be an honour to be the first and to be representing my new country," said Mr Trofimoff, whose day job is a psychologist and sexologist.
"Also, Sir Edmund Hillary is my hero. I want to be the best in the world at something, just like him."
Despite having been on several such expeditions before, including to the North Pole in 1993, Baffin Island in the Canadian Arctic and leading a two-man expedition crossing Greenland on skis, Mr Trofimoff has discovered it is "much tougher" to organise such a trip from New Zealand - especially when it comes to raising funds.
"I didn't have much trouble raising money for the past trips, but money is much harder to come by in New Zealand," he said.
"It's also probably a bad idea to be going on an expedition in the same year as the Rugby World Cup because most of the would-be sponsors ... said they were already committed to sponsoring the competition."
Mr Trofimoff estimated that he would require about US$100,000 ($132,000) to cover all travel costs, material, equipment and training trips - money he has yet to raise.
He said he had to sell the family car to cover the cost of his first preliminary training trip in Norway next month.