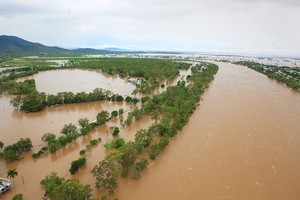 As Victoria continued to fight against floodwaters and Queensland buried its first victims of last week's disaster, some good news finally emerged.
Queensland police yesterday confirmed that a teenager photographed as she was swept to what appeared to be certain death in Toowoomba has survived.
A terrifying picture of the girl fighting for her life was taken by a bystander and was used in the hunt for the dozens of people reported missing after raging torrents swept them from streets, cars and homes in Toowoomba and the Lockyer Valley, west of Brisbane.
Christine Jurgs, who watched, horrified, told brisbanetimes.com yesterday that the girl fled from her car as a wall of water thundered down Dent St, briefly managed to cling to a power pole, but was swept away. Several people had risked their lives trying to save her.
Police said yesterday that the girl had been rescued further downstream.
But the agony continues in Victoria, where Kerang, which was late yesterday anxiously watching the levee protecting the Murray Valley town appeared to be holding despite allowing some water through.
The levee, dehydrated by years of drought and beginning to show cracks, was breached in a number of places, sparking an evacuation.
The ABC reported that engineers had given the levee the all-clear, but Mayor Max Fehring said the town was still playing a waiting game.
"We've got a wall of water out there in some ways, about 45km wide," he told ABC radio. "It's receding at the top end, but it's still out there somewhere and heading towards us, and we're at the bottom end."
Elsewhere, emergency crews were late yesterday bracing the levee at Warracknabeal, downstream from the inundated Wimmera centre of Horsham, as it faced one of its worst recorded floods. The nearby Yarriambiack Creek has been swollen by torrential rain that dumped half the area's average annual rainfall in one week.
Residents began evacuating on Monday night ahead of a flood peak expected late yesterday afternoon. Other towns face similar crises in the next few days.
About 1700 properties in 58 towns have so far been affected, and the state government yesterday said grants for flood victims would be increased from A$15,000 ($18,549) to A$25,000.
Meanwhile, Queensland faces more bad weather as it begins a massive, multibillion-dollar cleanup.
With many towns and large areas of the state still isolated or under water, Premier Anna Bligh said a special Cabinet briefing by Bureau of Meteorology experts had warned of more severe weather patterns in the next few months.
"We took the unprecedented step of actually inviting the weather bureau to come and formally present to the Cabinet, because we were expecting a very severe weather pattern throughout the wet season, the likes of which the weather bureau tells us we haven't seen since the early 1970s," she told Sky News. "We certainly are on full alert."
Bligh also announced a new reconstruction authority to oversee the rebuilding of the state.
In Toowoomba, mourners farewelled 13-year-old Jordan Rice and his mother Donna, 43, who were swept to their deaths from their car on Monday last week. Jordan died after telling rescuers to take his 10-year-old brother Blake first.
"I don't think I can put into words how much I'll miss them" Jordan's father John Tyson said.
Jordan's older brother Chris said Jordan had been petrified of water, heights and even the dark.
"How wrong was I?" he said. "Here you go losing your life from one of your biggest fears to save your little brother.
"You're my little hero. I love you Weedsy. You'll always be missed mate."