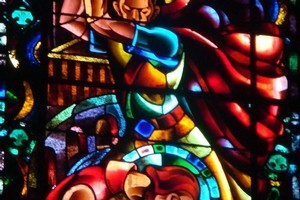 The quiff of the sword-wielding Herod is unmistakably Hitler's.
For almost 70 years, worshippers in a church in a small town south of Paris have been saying their prayers under a portrait of Adolf Hitler.
The Fuhrer's likeness features in a stained-glass window, installed in 1941 in the choir of St James' church in Montgeron, in what historians say is a quiet act of defiance in Nazi-occupied France.
Hitler is portrayed as Herod Agrippa, the brutal king of Judea, dressed in a blue Roman tunic and red cloak, wielding a sword that is about to behead the praying figure of St James the Apostle.
About two-thirds of Hitler's face is seen - his moustache and mouth are concealed by an uplifted left arm - but his quiff and head shape make him unmistakable.
The window was made by two master glaziers, Jose and Carl Maumejean, brothers who crafted two other stained-glass windows in Art Deco style for local churches.
"It's an amazing story," says local councillor Isabelle Bigand-Viviani, who has posted a picture of the window on her blog (http://www.montgeronmaville.fr/photo-1508166-30-tail-Vitrail-St-Jacques-jpg.html). "It was really cheeky of the brothers to do this."
After falling to the Nazis in June 1940, France was governed by a puppet regime headed by Marshal Philippe Petain, and the northern part of the country was occupied by German troops. Informers were everywhere, so the windows were a risk, both to the brothers and to the priest, Father Ducouedic, who placed the order for the work.
According to an 84-year-old local woman, Madeleine Roussel, who grew up in the town during the war, Ducouedic was very unfavourably disposed towards the Nazis, the daily Le Parisien says.
Father Dominique Guerin, the parish priest today, says the window marks a courageous twist to a centuries-old tradition among the makers of stained-glass windows, who sometimes would be commissioned or coaxed into including a local aristocrat or a dead child among the faces of angels or saints.
"The brothers did it discreetly, which is why the moustache is hidden from view. They couldn't do it openly, because they would have had problems," he said. "But it was a wink to people. People would have have known about it, I'm sure."
Acts of non-violent resistance in war-time Paris could sometimes escape notice, thanks to their subtlety, a lack of vigilance by sneaks or widespread connivance by the public.
Jean-Paul Sartre's play, Les Mouches (The Flies), ran uncensored for 40 performances and even uniformed Germans attended, apparently unaware of its anti-Nazi message.
In one case, a bookseller on the Left Bank put in his window portraits of Hitler and Petain and their books, with a placard reading "Vendus," which can be read as "Sold Out" or "Traitors." The display was left undisturbed throughout the Occupation.
The Maumejeans, the third generation of a dynasty of artisan glaziers, died in the 1950s, their work of resistance quietly noted, but unsung.