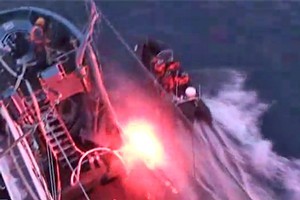 Anti-whaling activists are promising more attacks after throwing smoke grenades and "flash bangs" at Japanese whalers in the Southern Ocean today.
Sea Shepherd Conservation Society captain Paul Watson says the raid is one of many that will be carried out in coming weeks.
"We're going to have numerous conflicts with them.
"Our tactics worked last year, they worked the year before that and they're working even better this year."
Video released today by the Institute of Cetacean Research shows Sea Shepherd Conservation Society activists throwing incendiary devices at Japanese whaling vessel Yushin Maru No. 2.
One device, which the institute claims was a "flash bang", burns brightly in the netting of the vessel.
Another releases bright orange smoke near a whaler who is aiming a high-pressure hose at the activists' inflatable boat.
A statement from the institute condemns the attacks, saying they are meant to undermine legitimate whale research.
"The Institute of Cetacean Research strongly condemns the Sea Shepherd Conservation Society and its continued dangerous and violent actions against Japan's whale research vessels in the Antarctic.
"We call on all related countries including the Netherlands, which is the Bob Barker flag state, and Australia, the virtual home port of the SS vessels, to stop condoning the Sea Shepherd Conservation Society violent actions and to take every means available to restrain them."
Sea Shepherd captain Paul Watson denies the whalers' claim the thrown devices were "flash bangs".
The society has only used stink bombs and smoke bombs in its efforts to slow the Japanese vessels' efforts to harpoon whales, he says.
"We've been doing the same thing for six years. We haven't done anything different."
"They keep putting out these releases like it's a massive surprise every time this happens. Some of them sound like they're holed up in a fox hole in Okinawa. It's not like that."
He claims the society's tactics are taking a toll on the whaling operation.
Two of the whaling boats are devoting their time to tracking Sea Shepherd ships and the other is also being hampered, he says.
New Zealand Foreign Minister Murray McCully has appealed for both Japanese whalers and Sea Shepherd activists to show restraint this whaling season.