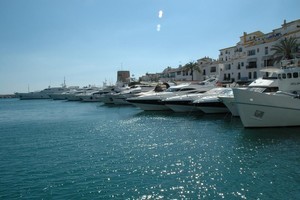 In the glitzy Spanish resort of Marbella, people are concerned with many things: the state of the golf greens or which spa performs the best liposuction.
But for nearly two decades, nobody seemed to worry about what was going on inside the town hall.
Certainly the builders were not complaining as they clogged the former fishing village with multimillion-euro concrete villas. Northern European sun-seekers were not interested either as they put down deposits for thousands of illegally built holiday retreats.
And resident celebrities and royals, such as the late Saudi King Fahd, were probably too busy docking their yachts at Puerto Bans.
That may help to explain why Spain is now witnessing the largest corruption trial in its history. More than 90 people, including two former mayors, 15 town councillors and a legion of builders, have been accused of giving and taking a total of €670 million ($1.16 billion) in bribes.
The scope of the alleged graft was so great that the entire town council had to be dissolved in 2006, when the police swoop began.
Testimony in the trial began last month. Its most recent development: Marbella town hall was forced to sell its €5 million planning office to help pay its debts.
"Everyone knew what was going on in Marbella, but everyone was benefiting from it too," said Andres Walliser, a sociologist specialising in urban studies at the Cirem research institute in Madrid.
"There is corruption elsewhere along the coast, but in Marbella, there was really big money."
The trial resembles a soap opera with a surreal cast of defendants, including a German aristocrat, a former football team captain and the popular Flamenco singer, Isabel Pantoja, widow of the dashing bullfighter Paquirri. She is accused of money laundering.
A spin-off case, dubbed Operation Goldfinger, involved the former estate of the James Bond star Sean Connery, now cluttered with 72 luxury homes.
Sir Sean was summoned to give evidence last year but told the court he was too ill to travel. There is no suggestion he committed any crime.
Looming in the background of the case: the late Mayor Jess Gil y Gil, a thrice-jailed developer and former president of Madrid's Atletico football team, who governed the town for 15 years from his Jacuzzi, gold chains glittering above his flabby belly.
The alleged mastermind of the money-for-votes system, the former urban-planning adviser Juan Antonio Roca, offered his much-awaited version of the saga last week.
Cool and composed, the stout man with greying sideburns known at the town hall as "the Boss" or "JR", after the character on the television show Dallas, denied accusations that he amassed his €2.4 billion fortune in kickbacks and shady property deals.
Last week, he denied police and media depictions of his ostentatious wealth, which allegedly included vintage cars, 275 paintings, a bull ranch, 100 purebred Andalusian horses and a mansion decorated with stuffed lions, giraffes and other wild game.
Local environmentalists hope the trial deters future graft, but they do not expect much to change. Javier de Luis, president of the Marbella branch of the national environmental group, Ecologists in Action, does not expect to see most of the prominent defendants behind bars.
"They've hired the best law firms in Spain - they'll eat the prosecution with potatoes," he said. "The damage they caused with this development barbarity wouldn't be cured with a trial." The case continues.
- INDEPENDENT