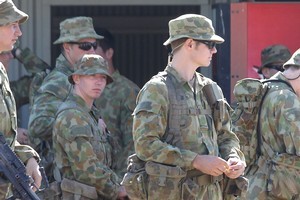 A Victorian court has found three men guilty of planning a terrorist attack on an Australian army base in Sydney.
Another two men who also stood trial over the alleged planned attack have been found not guilty.
A Victorian Supreme Court trial, which has been running for three months, was told the five men planned a shootout at the Australian Army Barracks at Holsworthy in the belief Islam was under attack from the west.
The jury heard the men took steps to obtain a religious decree to endorse the attack at the barracks and shoot as many people as possible until they were killed or overwhelmed, to advance Islam.
Wissam Mahmoud Fattal, 34, of Melbourne, Saney Edow Aweys, 27, of Carlton North and Nayef El Sayed, 26, of Glenroy were found guilty of conspiring to prepare for or plan a terrorist act between February 1, 2009 and August 4, 2009.
Abdirahman Mohamud Ahmed, 26, of Preston, and Yacqub Khayre, 23, of Meadow Heights, were found not guilty.
The jury deliberated for more than five days.
As jurors left the court following the verdict, Fattal said: "Islam is truth religion. Thank you very much."
Justice Betty King released Khayre and Ahmed after both were acquitted.
Before they left the dock the men hugged their co-accused.
Justice King remanded Fattal, Aweys, and El Sayed in custody.
They will appear in court for a mention hearing on January 24.
- AAP