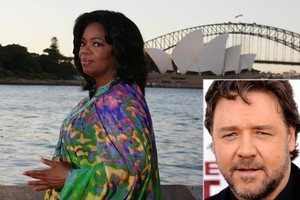 US talk show host Oprah Winfrey has enjoyed a morning's sailing on Sydney Harbour with actor Russell Crowe and hundreds of her audience members.
The TV legend was on board a small yacht for a two-hour harbour cruise in bright sunshine this morning.
Decked out in an orange jumper and a white South Sydney Rabbitohs hat given to her by Crowe, Oprah looked as though she was having fun, sitting at the stern of the boat.
"I'm having the time of my life," she told reporters.
She said she wanted to come back to the harbour - without the small army of media that is following her every move in Australia.
Oprah had obviously been chatting with Kiwi-born Crowe about sport, as she shouted out the name of Rabbitohs player Greg Inglis when asked about the hat she was wearing.
She sailed past the Opera House, where she will film two episodes of her show tomorrow.
Hundreds of the show's audience members joined the sailing trip, on a flotilla of yachts and a replica of Captain Cook's Endeavour.
Crowe gave a victory sign as he sailed past reporters.
Asked if he knew how to sail, the actor replied: "You should watch a little film I was in called Master and Commander", alluding to his swashbuckling high seas movie.
Meanwhile, a strike by NSW Maritime workers which threatens to interfere with the taping of the Oprah Winfrey shows in Sydney could still go ahead.
There will be another workers' meeting later today to discuss the outcomes of the meeting with management.
"The workers will decide then whether or not to deploy the exclusion zone," a spokeswoman for the Australian Services Union (ASU) told AAP.
If the action goes ahead, workers will not deploy the buoys necessary to ensure the exclusion zone at the Opera House remains in place during the filming of two Oprah shows tomorrow.
The union is looking for a wage increase and an improvement in general working conditions.
"At the moment they have had no offer from NSW Maritime, and they have been waiting for six months now," the ASU spokesperson said.
NSW Premier Kristina Keneally said filming of the shows won't be disrupted by a possible strike.
"If industrial action is taken there are contingency plans already in place," Ms Keneally told reporters in Queanbeyan.
"Exclusion zones will be implemented, and there will be no disruption to filming The Oprah Winfrey Show."
Guests announced
Meanwhile, some of Australia's biggest stars will join Oprah at the recording of her talk show at the Sydney Opera House.
Russell Crowe, Hugh Jackman, Nicole Kidman, Keith Urban, Olivia Newton John and Bindi Irwin will feature in the celebrity guest line-up for two episodes of the show to be taped tomorrow.
International rock band Bon Jovi and hip-hop star Jay-Z will perform, while Australia's John Foreman and his orchestra will feature in a musical finale.
About 6000 audience members, including Winfrey's 300 American guests, will be at each show, after producers received more than 350,000 requests for the free tickets.
More than 95 per cent of the tickets went to Australian residents, who won their seats through a lottery system.
Another two episodes of the US talk show will be comprised of footage from the travels of Winfrey and her guests across Australia.
The episodes will air in January in the US and Australia, with Network Ten showing them during prime time.
- AAP