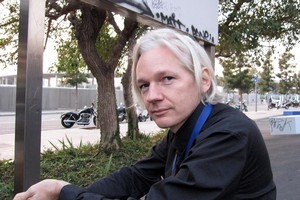 The mother of WikiLeaks founder Julian Assange says there is no way her son is guilty of the rape charges levelled against him and that "massive forces" are out to get him.
Assange has been denied bail in a London court after his arrest in Britain on a Swedish warrant accusing him of sex crimes, charges he denies.
Asked about the charges on Friday, his mother Christine Assange replied: "Julian, rape, straight out of my guts - no way. Julian would not rape."
Ms Assange said she was worried for her son.
"It's a worry, of course. I am no different from any other mother," she told the Seven Network.
"Every time the news goes on I am glued to it ...
"These massive forces have decided they are going to stop him and they are not going to play by the rules."
Ms Assange said she was angry at the Australian government, saying it has not supported her son.
"Hang on a minute, this is one of your citizens here. You shouldn't be leading the charge," she said.
"He is brave. A lot of people would not be able to withstand the pressure he is under."
On Friday, hundreds of people rallied in support of the charged man in Sydney, Melbourne and Brisbane.
"He is very heartened by the worldwide response from just ordinary people," Ms Assange said.
But she added a warning: "Don't take your freedoms for granted or else you will lose them. They were hard fought for, people lost their lives over and over and over again, and if we don't protect them we will lose them and next time it could be your son or your daughter."
- AAP