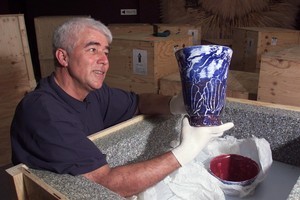 Panic is spreading through the art world after the discovery of forgeries among 20th century paintings sold in recent years by leading auctioneers and dealers worldwide, including Christie's in London.
More than 30 paintings, thought to be by artists including Max Ernst, Raoul Dufy and Fernand Leger, have been unmasked as forgeries. The fakes have duped leading figures in the art world into parting with at least £30 million ($63.5 million).
Four of the paintings have gone through Christie's, including forgeries of Ernst's La Horde, estimated at £3.5 million and eventually sold to the Wurth Collection, and Andre Derain's Bateaux a Collioure, sold for £2 million. Six paintings were sold by the leading German auctioneer, Lempertz, one for £2.8 million. The forger's strategy appears to have been to create compositions that would relate to the titles of documented works whose whereabouts are unknown.
Dealers and collectors who have recently acquired works by the artists involved "are shaking over this scandal", one insider said.
"They are in a panic over whether their paintings are also forgeries. Everyone's taking a second look." The panic is so acute that collectors are even seeking refunds on unquestionably genuine works.
One expert describes the forgeries as "gold standard". They cover many styles and include works by Heinrich Campendonk, the German Expressionist.
Most are in the style of the particular artist, rather than a direct copy.
All are believed to have been painted by a German forger over the past 15 years. Police are investigating whether that forger is Wolfgang Beltracchi, 59, an artist from Freiburg, aided by his wife, Helene, 52, and her sister, Susanne, 57 - women described as "great charmers". All three are now in police custody. Two men are also being investigated.
The deception involved an invented story about inheriting the paintings from the sisters' grandfather, Werner Jagers.
Dr Nicholas Eastaugh, of Art Access and Research, a leading British expert in scientific analysis of paintings, said he had seen four of the forgeries and done extensive tests on three. The results confirmed that they contained pigments not available when they were supposed to have been painted.
One of the paintings, Campendonk's Rotes Bild Mit Pferden (Red Picture with Horses), was sold in 2006 by Lempertz for a record price.
Eastaugh emphasised that the duped buyer has given him permission to discuss the case. A painted sketch on the back of the canvas - suggesting that the artist was trying out another idea - is also a forgery. Clues to a painting's provenance are often found on the back of a painting. Many of the forgeries have fake labels from galleries or collections to give a further authentic touch, suggesting past exhibitions.
The Christie's Ernst is said to bear a false label, "Flechtheim Collection", which aroused the suspicions of the distinguished historian and Flechtheim biographer, Ralph Jentsch. Other labels purport to be from the "Jagers Collection".
One duped auctioneer said: "It's significant that these paintings have been through the sale process before they got to me. They must have been sufficiently convincing."
The buyer of the Campendonk was Trasteco, a trading company in Malta, which is now claiming back the purchase price. The firm is one of two collectors represented by Friederike Grafin von Bruhl, a German lawyer at K&L Gates.
She said: "For the art world, this is a big scandal. Everyone is shocked."
Christie's London said: "We take any doubt surrounding authenticity extremely seriously and are investigating the matter fully."
- Observer