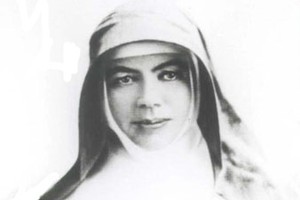 In the Catholic Church, the path to sainthood can take decades to play out.
In the case of Mary MacKillop, set to become Australia's first saint, it began in 1925 and only culminated last year when the church declared her necessary second miracle.
Mother Mary will be recognised as a saint by Pope Benedict at a ceremony on Sunday at St Paul's Basilica, in Rome.
In December the Vatican accepted that it was by Mother Mary's intercession that the life of a middle-aged Australian woman had been saved from terminal cancer about 16 years earlier.
That had followed the declaration of her first miracle in 1993 when it agreed that a woman had been cured of leukaemia in 1961.
In official church procedures there are three steps to sainthood.
A person first becomes venerable, after being recognised as having lived their life as a role model of Catholic virtues.
To be recognised as blessed, and therefore beatified, in addition to those personal attributes and service, one miracle must be verified as occurring through the individual's intervention.
To be canonised, a second miracle is required.
In the case of Mother Mary, her work firstly in Penola, southeast of Adelaide, where she established a school for the poor in a disused stable and later her work in Adelaide, where she established the Sisters of St Joseph, cleared the first hurdle.
During her 16 years in South Australia, her order opened 80 country and suburban schools, the providence for homeless or destitute women, a refuge for women in moral danger and the St Vincent de Paul's Orphanage.
But Mother Mary's heroic virtue was only declared by the church in 1992, more than 60 years after Archbishop of Sydney, Michael Kelly, had established a tribunal to carry forward the process.
In 1993 the Vatican accepted that she was responsible for miraculously curing a woman who had leukaemia in 1961.
Despite doctors giving her no hope, the woman fell pregnant and gave birth to a baby boy after praying to Mother Mary.
She had another five children over the next decade and was still alive and well more than 30 years later.
Around that time Kathleen Evans, now 66, was 49 and diagnosed with cancer.
A tumour in her right lung quickly spread to her glands and within months a secondary cancer was found on her brain.
She was told her condition was inoperable and that chemotherapy and radiation treatment would be pointless.
"I was given only a couple of months at the most to live so I said thanks, but no thanks," she told reporters when her identity was revealed earlier this year.
"All I had left was prayer."
Ms Evans was given a picture of Mary MacKillop and a piece of her clothing by a friend and began praying.
Within four months her condition had improved and 10 months after her first diagnoses, she was free of cancer.
In 2009 the church accepted Ms Evans' case as Mother Mary's second miracle.
But other illness or accident victims have attributed their recovery to her including the family of burns victim Sophie Delezio and Irishman David Keohane who woke from an eight-month coma following an assault in Sydney.
More recently, the case of Jack Simpson has been revealed.
In 1999 the then eight-year-old lost much of his neurological functions almost overnight after collapsing one day while at school.
He became paralysed and was eventually diagnosed with multiple sclerosis, cancer and epilepsy.
Now 19 and healthy, he is planning to be in Rome for Mother Mary's canonisation.
His case was also presented to the Vatican last year but was not required.
The Catholic Church considers these miracles to be wonders performed by supernatural powers explicitly ascribed to God.
"The wonder of the miracle is due to the fact that its cause is hidden and an effect is expected other than what actually takes place," the church says.
Miracles may be of substance, in that no natural power could bring it to pass.
But they may also have regard to the effect produced, such as where a cure to an illness may be possible, but occurs instantly.
- AAP