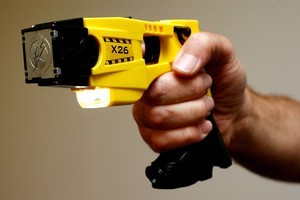 SYDNEY - Police believe officers did not act inappropriately towards a man who died after they tasered him during a domestic dispute in Sydney's west.
Police were called to a house in Helen Street, Sefton, where a man was reportedly trying to force entry just after midnight.
"At that location, they were confronted by a man who was armed with two knives," Chief Inspector Glen Fitzgerald of Bankstown police told reporters early on Tuesday morning.
"As a result of that, one of the police officers has deployed the Taser, and the man was arrested."
The man lost consciousness a short time later.
Officers performed CPR on him until paramedics arrived, but he died after he was taken to Liverpool Hospital.
Chief Inspector Fitzgerald said a team of police would look into the incident.
But he would not say how many times, or where on the body, the man had been tasered.
"The circumstances surrounding the Taser, and the entire incident, will form part of the reference for the critical incident team," Chief Inspector Fitzgerald said.
Asked if officers had acted appropriately, he replied: "At this stage ... we are looking after the police in terms of their welfare.
"At this point the police are very comfortable with the circumstances surrounding what has occurred."
The man is the second to have died in two days during a police arrest in Sydney.
In the early hours of Monday, St George-Illawarra rugby league fan Steven Bosevski died after he was sprayed with capsicum and hit with a baton by police breaking up a fight at St George Leagues Club in Carlton.
A critical investigation team is looking into the incident.
Three other deaths have been linked to police use of Taser guns in Australia.
Antonio Galeano, 39, died after being stunned with a 50,000-volt Taser during a violent confrontation with police at a unit in Brandon, near Townsville, on June 12, 2009.
Two months earlier a man died in Alice Springs after police used a Taser on him and in May 2002, NSW man Gary Pearce died of a heart attack about two weeks after being jolted with a stun gun while threatening police with a frying pan.
- AAP