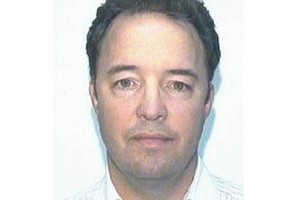 He was a multimillionaire businessman and a friend of John Key, but Herman Rockefeller harboured a dark secret. In private, the father of two enjoyed sex with strangers - and that cost him his life.
Rockefeller, chief financial officer for Brierley Investments for eight years, was killed and his body was dismembered and burned after he arrived at a swingers' rendezvous in Melbourne last January without a partner.
Mario Schembri, 58, was furious and punched him; the Harvard graduate fell to the ground, hit his head and died.
Yesterday, Schembri and his girlfriend, 42-year-old Bernadette Denny, who had responded to an advert placed by Rockefeller, 51, in a swingers' magazine, were jailed for manslaughter.
Schembri, who received a nine-year term, dismembered Rockefeller's body with a chainsaw and burned it in a 44-gallon drum in a friend's backyard.
Denny, who also attacked Rockefeller, and who bought at Bunnings and Safeway the tools for his disposal, sobbed as she was sentenced to seven years' imprisonment.
Justice Terry Forrest, in the Victorian Supreme Court, accepted that the couple, both of whom pleaded guilty, had not intended to kill Rockefeller. But he said they had caused "incalculable" damage to a "decent, honourable" family.
Rockefeller's widow, Vicky, who knew nothing about her husband's double life and who, according to psychological reports, is deeply traumatised, was in court yesterday.
She showed no emotion as the two defendants were sentenced and did not comment afterwards.
The judge said that while Rockefeller had made some "unorthodox" choices in his adult life, it was not the court's role to pass judgment on them.
The court heard that Rockefeller first met Schembri, a balding, semi-literate handyman, and Denny, an alcoholic with depression and dependent personality disorder, in early January.
The businessman, who called himself Andy Kingston, visited them at their home and had sex with Denny on a mattress on the living-room floor, while Schembri watched.
They arranged to meet again a couple of weeks later, after Rockefeller flew into Melbourne from a business trip in Brisbane.
He was supposed to be accompanied by his wife, "Jenny", but turned up alone. Schembri, a father of seven and grandfather of six, flew into a rage.
Rockefeller tried to leave, but Schembri refused to let him and a fight broke out.
When interviewed by police, Schembri likened himself to the boxer Muhammad Ali, saying he had hit Rockefeller harder than he had ever struck anyone before.
In the days after the killing, the couple dumped Rockefeller's car, a blue Toyota Prius, and bought the chainsaw, plastic sheets, disposable overalls, face masks and a dustpan and shovel.
The next day, Schembri used the equipment to carry out his macabre task of disposing of Rockefeller's corpse.
After the Prius was found 80km west of Melbourne, its GPS co-ordinates led police to the couple's home. Their address was also scrawled on a newspaper, alongside a Sudoku puzzle.