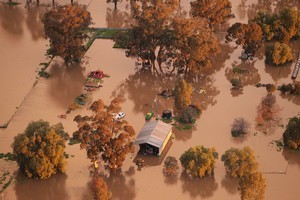 Victoria's swollen rivers have flooded almost 300 properties as authorities sandbag homes and hospitals, bracing for more damage.
The damage bill has topped $10 million ($12.7 million) in the worst flooding seen in more than a decade, after heavy weekend rain washed over-saturated soil into river systems.
"We are seeing a flood emergency that is still evolving," State Emergency Service (SES) state controller Tim Wiebusch said last night.
In northeastern Victoria, warnings have shifted to Shepparton, where over 60 homes are at risk.
SES volunteers and the Army have gone door-to-door in the area to warn more than 400 homeowners.
The town of Charlton is facing flood levels not seen in nearly three decades.
Shopfronts are under 30cm of water with 30 homes inundated by flooding.
A nearby hospital has been sandbagged with patients on alert to be moved if the waters keep rising.
The flooding comes after some regions saw more than 200mm of rain fall over the weekend.
Authorities have warned residents by sending 55,000 text messages.
- AAP