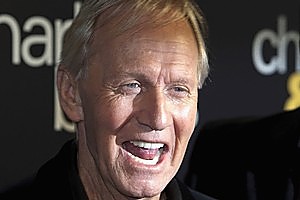 Actor Paul Hogan has been given permission to leave Australia after a travel ban placed on him by the Australian Taxation Office (ATO) was lifted, his lawyers say.
Hogan and the ATO have reached agreement on terms which will allow the actor to return to his family in LA, his lawyer Andrew Robinson said in a statement this afternoon.
"While the commissioner and Mr Hogan remain in dispute on more general taxation issues, Mr Hogan continues to protest his innocence and denies any wrongdoing," Mr Robinson said in a statement.
Agreement was reached following a "cordial and cooperative meeting" between lawyers for the ATO and Hogan, Mr Robinson said.
The ATO, which has demanded Hogan pay an alleged multimillion dollar tax debt, served him with a departure prohibition order in mid-August when he returned to Australia for his mother's funeral.
Hogan, 70, who lives in Los Angeles with his wife Linda Kozlowski and their son Chance, was banned from leaving the country until the dispute was settled.
Mr Robinson told AAP on Thursday that Hogan was hopeful of resolving his differences with the ATO, after receiving a letter from them on Wednesday.
Mr Robinson said the tax office had based its tax evasion case against the Crocodile Dundee star around a disgruntled former financial controller who had worked for Hogan.
"The tax office case is ... hugely based on a disgruntled, fired ex-financial controller of Hogan's who has made inconsistent statements and is now shopping around for immunity - that's their principal witness," Mr Robinson told the Nine Network on Wednesday morning.
"We are still hopeful that we'll get a response... from the tax office and Paul can go back to his family - Chance starts a new school in a week's time and Paul wants to be there for that moment."
Hogan has insisted he has already paid too much tax in Australia and is the victim of a witch hunt.
"If I was a tax evader which I'm not, I must be the dumbest one in the world," he told the Nine Network on Tuesday.
"I keep coming back here to the country, and instead of fleeing to a tax haven, I fled to the United States of America."
At the time, Hogan said he was grateful for the support people had given him but said he didn't want sympathy.
"I want not to get special treatment," he said.
"I'm just Hoges and all I ever wanted was a fair go."
- AAP