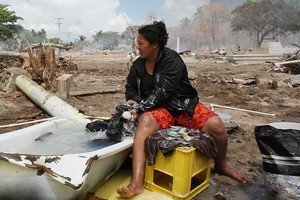 The Government will spend $3.5 million on improving tsunami preparedness and warning systems across the Pacific in a programme which Foreign Affairs Minister Murray McCully describes as a major upgrade.
Mr McCully is in Samoa at the end of a week-long trip to the Solomon Islands, Kiribati and Samoa.
Labour MP Phil Twyford yesterday criticised the Government for cancelling a three year contract with Suva-based Foundation for the Peoples of the South Pacific.
The contract, worth $500,000 a year for three years, was focused on reducing the impact of disasters such as tsunami and cyclones, Mr Twyford said.
"Mr McCully is taking an axe to non-governmental organisation (NGO) based programmes that he doesn't like the look of," he said.
But Mr McCully today said the programme was cut because it was "piecemeal and ad hoc" and was not part of a comprehensive framework.
He said the Government would put in place a $3.5m programme led by the Ministry of Civil Defence and Emergency Management.
GNS and other government agencies would also be involved.
A coordinator in Wellington would liaise with the Pacific countries and government organisations.
"It will be primarily focused around government organisations but there'll be scope for NGO involvement as appropriate," Mr McCully said.
The new programme would be a comprehensive and regional approach focused on tsunami protection, prediction, warning and public education.
Mr McCully will discuss the new programme when he visits Lalomanu this afternoon.
Lalomanu was one of the worst hit villages during the tsunami in Samoa almost a year ago.
"I am not happy that we have done sufficient (work) yet to upgrade tsunami warnings and tsunami preparedness within the region," Mr McCully said.
"What I've asked our people to do is to replace what was a piecemeal and ad hoc small programme with a much more extensive but much more adequate programme."
It would include a range of specific projects, he said.
Next year the Defence Force would carry out an operation in Tokelau and tsunami work could be tacked on, Mr McCully said.
The funding was over three years but much of it would be spent in the short-term.
In the Solomon Islands, Mr McCully meet new Prime Minister Danny Philip and other government ministers after the recent election there.
He said it set the scene for a good working relationship.
In Kiribati travelling media and politicians were surprised at the squalor and living conditions in Tarawa, Mr McCully said.
"I think (it) showed greater challenges than most of them imagined we would find in our region."
In Christmas Island there were opportunities for constructive work to build tourism and sustainable economic activity, he said.
"If you want to see the opportunities and the challenges in the region, we've seen our share of both."
- NZPA