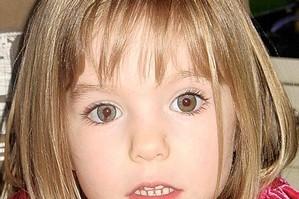 A British paedophile confessed on his deathbed that he knew what happened to missing girl Madeleine McCann, according to a newspaper.
Madeleine disappeared from a Portuguese resort in May 2007, days before her fourth birthday, sparking one of the most publicised missing persons cases the world has ever seen.
British newspaper The Sun yesterday published an interview with the son of Raymond Hewlett, a convicted paedophile and suspect in Madeleine's disappearance, claiming Hewlett wrote in a letter that he knew who had taken Madeleine.
In a letter to his estranged son Wayne written on his deathbed, 62-year-old Hewlett denied he had anything to do with Madeleine's disappearance but said he knew she had been stolen by a gypsy gang.
Hewlett was a suspect in Madeleine's disappearance because he was living in Portugal when she vanished from the McCanns' family holiday apartment and had a history of convictions for sex crimes against children.
Hewlett, who had repeatedly refused to meet with detectives investigating the case, died of throat cancer in April.
A week after his death, Hewlett's son Wayne was delivered a letter by a "mystery man", he told The Sun.
Most of it was an apology for his crimes but he also wrote about Madeleine.
"It was a bolt from the blue and I shook when I read it," Wayne told The Sun. He stated he didn't want to go to his grave with us thinking he had done such a horrible thing.
"He said he had had nothing to do with taking Maddie but did know who had. He said a very good gypsy friend he knew in Portugal had got drunk and 'let it out' that he had stolen Maddie to order as part of a gang.
"My dad said this gang had been operating for a long time and had snatched children before for couples who couldn't have children of their own.
"Maddie had been targeted. They took photos of children and sent them to the people they were acting for. And they said 'yes' or 'no'. Dad said the man told him it was nothing to do with snatching children for a paedophile gang or for a sexual reason.
"He said there were huge sums of money involved. And he totally believed what this man was saying."
Wayne, who had no contact with Hewlett for nearly 20 years, told The Sun his father's letter seemed "very genuine".
"I don't know if this is what happened to Maddie or not, but it does make sense," he said. "I can't believe he'd go to those lengths to make up some elaborate lie when he was so weak and ill."
Wayne told The Sun the letter had unnerved him so much he burned it, but he now wants to talk to police about what it had said.
The McCanns' spokesman Clarence Mitchell told The Sun: "We are extremely grateful to Wayne for coming forward with this information and the detective team will be interviewing him as a matter of priority."
- NZ Herald staff