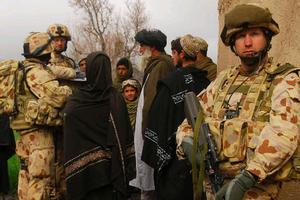 An Australian soldier has been shot dead in a fierce firefight with Taleban insurgents, taking Australia's Afghanistan death toll to 21 since 2001.
The unnamed 28-year-old lance corporal, a member of the Brisbane-based 6th Battalion, was part of a Australian mentoring patrol with Afghan National Army (ANA) troops who encountered a significant insurgent force in the Deh Rawood green zone, west of the Australian base at Tarin Kowt.
He is the fourth digger to be killed in Afghanistan in less than a fortnight.
Defence head Air Chief Marshal Angus Houston said the lance corporal was killed on Tuesday morning, Afghanistan time, and patrol members applied immediate first aid but he could not be saved.
He said the patrol remained in contact with the insurgents for almost three hours, calling in an Apache attack helicopter which fired on insurgent positions with its 30mm cannon.
A precision guided weapon was also used to attack the insurgents.
Air Chief Marshal Houston said the soldier left behind a wife and young family. They have requested his name not be released at this stage.
He was on this fourth operational deployment and his second tour of Afghanistan.
"He was very popular with his platoon and displayed good humour even in times of stress," Air Chief Marshal Houston said.
The soldier was the 10th Australian to die in Afghanistan this year and the fourth member of 6RAR to die in its current rotation.
"There is absolutely no doubt that this has been a very tough two-and-a-half months for the Australian army."
Prime Minister Julia Gillard later acknowledged the "terrible" loss.
"It's a shock, it's a tragedy, our hearts and our sympathies go out to them in these circumstances," she said.
The rise in the Australian death toll coincides with the Afghanistan summer fighting season, marked this year by a tough fighting and an increase in overall international casualties - 458 so far this year compared with 520 for the whole last year.
The Deh Rawood region was previously in the operational area of the now withdrawn Dutch force.
Despite the rise in casualties, Air Chief Marshal Houston said he believed the tide was turning as the surge of US troops reached its peak.
"At the same time you are seeing a huge increase in the number of ANA and Afghan National Police. All of this is being committed to the fight," he said.
"We are going into areas where the coalition and the ANA have not been before. These are areas that have been dominated by the Taleban. They are now being contested.
"The Taleban are fighting back and we are seeing a lot more violence, a lot more activity. That is what you are going to see for the rest of the fighting season."
Defence Minister John Faulkner said the latest casualty will likely raise questions about Australia's involvement in Afghanistan.
"I believe our work there is absolutely vital," he said.
"This soldier, and his fellow soldiers have been doing the difficult, but essential work of training and mentoring the Afghan national Army."
Threats to national security "are not defeated by distance", he said.
"The work of protecting our community must include preventing Afghanistan from becoming a fertile ground for terrorism."
- AAP