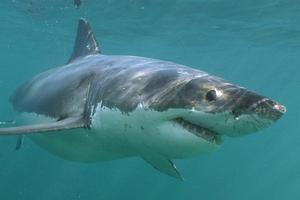 Rescuers worked desperately to save a surfer attacked by a shark in Western Australia's southwest but the man died after suffering a deep bite to his leg.
The 31-year-old father was surfing at the popular South Point break near Gracetown, about 270km south of Perth, when he was attacked around 8.15am (WST) on Tuesday.
The man was from nearby Busselton and was a fly-in fly-out worker in WA's Goldfields region.
Local resident Rob Alder was watching from his house and saw the lone surfer come off his board and disappear near the South Point surf break south of Cowaramup Bay.
He rushed to the beach with friends to find the man washed up on rocks and unconscious with a severe gash to his right leg.
They applied a makeshift tourniquet using a surfboard leg rope to the man's leg before an ambulance arrived to assist.
He was taken to Margaret River Hospital, where he was pronounced dead.
Mr Alder said there were seals in the bay at the time.
"It's my thought that as often happens the shark had probably mistaken the surfer for a seal," he told ABC Radio.
"It was probably an exploratory nip, it realised it wasn't a seal and let go, but that can be fatal."
The man's surfboard was reported to be bitten in half.
Mr Alder said everyone in the popular Margaret River surfing region was numbed and thinking of the friends and family of a fellow surfer.
"We all know that we live with this risk when we take part in this exciting and exhilarating way of life.
"We're in shark territory, we're really at the mercy of the gods."
Another local resident, Cassandra Fisher, said she saw the shark in the water off the beach.
The beach has been closed until midday on Wednesday while police and fisheries officers try to find the shark and assess further risk of attack.
Police took hundreds of calls on Tuesday morning from locals who were concerned that a family member or friend could have been the deceased.
Sergeant Graham Clifford said the man's name would be released as soon as possible to allay concerns.
"As soon as we can identify the deceased we'll let the public know which is normally against our practice of waiting 24 hours," he said.
Department of Fisheries WA regional manager Phil Shaw said fisheries officers would try to determine if the shark was still in the area, what species it was and whether it posed a risk.
He said it was not known if the shark was a great white and said any decision to destroy a shark would depend on the risk assessment.
"If it posed a continuing risk, if it was determined that it was likely to keep hanging around and become a threat then that would be the decision, but it would be a last resort."
Mr Shaw said great whites were common off that part of the WA coast and were a protected species.
Unfavourable weather meant a boat from Busselton might not be able to reach the area until Wednesday but a plane might be used, he said.
In 2004, local surfer Brad Smith died after a shark attack at Gracetown's Lefthanders Beach.
In 1996 five adults and four children were killed in a cliff collapse near Gracetown while watching a surfing carnival.
- AAP