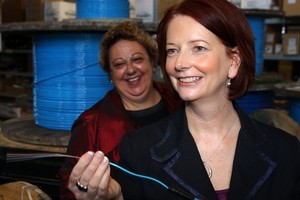 Australia should move to be a republic when reign of Queen Elizabeth II ends, Prime Minister Julia Gillard says.
Gillard said today the Queen should be Australia's final monarch, despite the nation's "deep affection" for her.
"What I would like to see as prime minister is that we work our way through to an agreement on a model for the republic," she told reporters in Townsville.
"I think the appropriate time for this nation to move to be a republic is when we see the monarch change.
"Obviously I'm hoping for Queen Elizabeth that she lives a long and happy life, and having watched her mother I think there's every chance that she will."
- AAP