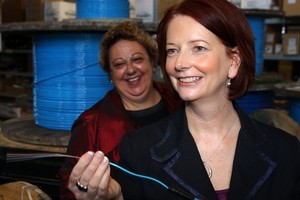 Prime Minister Julia Gillard has staked her government's campaign for victory in a tight election race this week on its economic record in steering Australia clear of recession during the global downturn.
Gillard used her speech to her Labor Party's official campaign launch Monday to describe how her government had prevented hundreds of thousands of Australians from losing their jobs through stimulus spending that carried Australia through the crisis with a single quarter of economic contraction.
"I acknowledge not everything went according to plan, but look at what we achieved together," Gillard said. "We emerged from this global economic crisis ... stronger than any other major economy in the world."
She also used her 40-minute speech to praise the legacy of Kevin Rudd, the prime minister she overthrew in an internal party coup in June. She explained at the time that she had ousted Rudd because the government "had lost its way."
On Monday, she described Rudd, who sat among 500 party faithful at the launch and received a standing ovation on arrival, as "a man of great achievements with great achievements to lie in the future for our nation."
Gillard excluded Rudd, the main architect of the government's AU$52 billion in stimulus spending, from her Cabinet but has promised him a senior Cabinet position if Labor is re-elected.
Australia's first woman prime minister concluded her speech with a variation of US President Barack Obama's "yes we can" campaign slogan.
"I'm too humble to compare myself to ... Barack Obama, but I am asking you ... when you vote on Saturday, to say ... 'yes we will,"' Gillard said.
"Yes we will move forward with confidence and optimism. Yes we will keep our economy growing stronger day by day," she added.
The opposition argues that Labor is addicted to spending and has sunk Australia too deep in debt with wasteful stimulus programs.
Opposition leader Tony Abbott said Gillard's plan announced last month to put a 30 per cent tax on iron and coal miners' profits would deter investment while failing to deliver the AU$10.5 billion in revenue that the government promised.
"This is a government which just can't be trusted with the Australian economy," Abbott told reporters in Sydney. "It's a government that can't be trusted with Australia's prosperity, which is so dependent on the mining industry."
Labor's campaign kickoff in the Queensland state capital Brisbane, only five days before Saturday's vote, was aimed at attracting an 11th hour surge of support for center-left Labor and deliver it a second three-year term in office. The vote is expected to be tight, with Labor campaign spokesman Chris Bowen predicting Monday that it would be Australia's closest election result in almost 50 years.
A survey published Monday by the respected pollster Newspoll, a Sydney-based market research company part-owned by Rupert Murdoch's News Corp., showed Labor ahead of the conservative coalition led by the Liberal Party with 52 per cent of voters' support - a 4 percentage point lead over the opposition.
The poll was based on a random telephone survey of 1,694 voters nationwide at the weekend. It has a 2.4 percentage point margin of error.
- AP