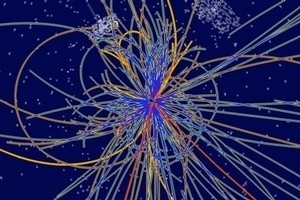 Here's a riddle: when do the words natural and organic not mean natural and organic? Answer: Whenever manufacturers feel like it. The microscope is squarely and unwaveringly focused on toxins in the cosmetics industry and the Story of Stuff makes the reasons for this very clear. The site boasts some entertaining cartoons which shed light on what is truly in our toiletries.

At the same time as people are campaigning for the removal of toxins from common household items, the UN has declared clean water a fundamental human right.

But although water seems like the key to life, perhaps we're thinking on far too large a scale. The Hitchhikers' Guide to the Galaxy claimed the answer to life was modest 42 - but as anyone who has heard of the Hadron Collider knows, what's piquing the interest of scientists is even smaller: The Higgs Boson. Learn more about why this elusive particle will provide the answer to life, the universe and everything and be prepared, it's a real brain-bender.

A recent advancement in the technology used to monitor diabetes could mean people forced to monitor their glucose levels won't have to prick their finger every 15 minutes any longer. This is due to the development of a sensor implant, with potentially a year-long battery life, that will track sugar levels.
Ironically, it's described as being "just a bit smaller than a Double-Stuf Oreo".

Meanwhile, another medical development has taken place in the study of Parkinson's disease. Scientists believe they have identified the gene that causes the movement disorder and may even be able to prevent it from ever taking hold.

Catalonia in Spain has successfully banned bull-fighting and hopes the rest of the country will follow suit. This will be warmly received by animal rights activists and those who saw the traditional sport as an act of animal abuse.

From bulls to boules, a much more relaxed - but equally ancient - sport is returning to prominence. According to the Guardian, petanque is now officially cool (again?) and a photo of trendy celebrities playing the game is included as definitive evidence to support their claim. Or does it refute it?