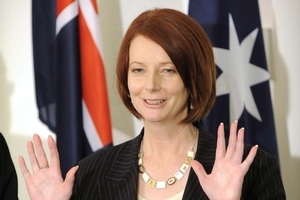 Australian Prime Minister Julia Gillard is believed to have settled on a poll date - and speculation is mounting she will visit the Governor-General tomorrow to call an election.
Ms Gillard will reportedly call the election for August 28, triggering a six-week campaign, that has unofficially been under way since she deposed Kevin Rudd as prime minister on June 24.
The ABC reports Ms Gillard will ask Governor-General Quentin Bryce to delay issuing the election writs until Wednesday to allow more time for people, especially the young, to enrol to vote.
Ms Gillard landed in Melbourne today after a whirlwind visit to Tasmania this morning and is tonight expected to spend what may be her last night in her Altona home before campaigning proper gets under way.
The ABC is also reporting she will immediately head to Brisbane after calling the election.
Earlier, Ms Gillard she would be sticking to a pledge to give Mr Rudd a senior ministry in a re-elected Labor government.
It has been revealed that the Prime Minister reneged on an apparent deal with Mr Rudd that would have allowed him to stand down before an October election.
The opposition predicts there will be "massive" instability within a Labor government that includes Mr Rudd on the frontbench.
"I have said that Kevin Rudd will serve as a senior minister in a re-elected Gillard government," Ms Gillard told reporters in Burnie during a visit to Tasmania today.
"That is my commitment, I will honour that commitment."
The opposition says that can only lead to trouble.
"We are going to be in for three years of massive instability," opposition finance spokesman Joe Hockey told ABC Radio.
"We've only seen the start of it now."
Labor frontbencher Craig Emerson dismissed reports that some party members did not want Mr Rudd back on the frontbench.
"Julia Gillard has said if Kevin Rudd seeks a position on the frontbench he will be given a very senior position," he told reporters in Canberra.
"The fact is we are a united party, we're moving forward, that's what's important to the Australian people."
Dr Emerson refused to be drawn on suggestions Ms Gillard welshed on a leadership succession deal with Mr Rudd.
"I'm not in a position to comment on these matters," he told reporters in Canberra.
Both Ms Gillard and Mr Rudd have refused to elaborate on what was said on the night before she became Prime Minister in June.
So too has the only other person privy to the discussions, Defence Minister John Faulkner.
- AAP