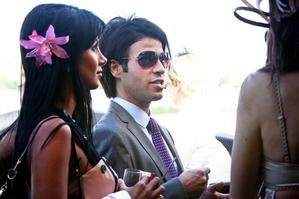 CANBERRA - Sydney's real underbelly has been further rocked by the arrest of part-time model and socialite Shayda Bastani on a charge of conspiring to kill the man she allegedly believed responsible for the near-fatal shooting of her fiance, Fadi Ibrahim.
Ibrahim, the playboy brother of Kings Cross club owner John Ibrahim, has already been charged for his part in an alleged conspiracy hatched in a high-security cell by another brother serving time for manslaughter.
Bastani was arrested on Monday afternoon as she prepared to board a first-class flight from Sydney to Kuala Lumpur in Malaysia after an investigation by a special police task force of the attempted hit on Ibrahim outside his A$5 million ($5.9 million) North Shore mansion in June last year.
Ibrahim was shot five times as he and Bastani sat in a black Lamborghini. Bastani, who was wounded in the thigh, helped to keep him alive until an ambulance arrived.
Surgeons removed parts of Ibrahim's oesophagus and stomach, and repaired several broken bones.
No one has been arrested or charged with the shooting, but the trail leads back through Sydney's murky underworld, touching other killings and allegedly triggering a complex conspiracy to exact revenge.
Bastani came to know Ibrahim through former boyfriend Faouzi Abou-Jibal, an associate of the family headed by John Ibrahim, whose story has been portrayed in the Underbelly television series.
John Ibrahim is in public a handsome, charming entrepreneur whose notoriety as an underworld heavy has never been established, despite unproven allegations of involvement in the drug operations of crime tsars Louis Bayeh and George Freeman.
Police have tried to bring charges against John Ibrahim, alleging during an unsuccessful 2004 trial for perverting the course of justice and threatening a witness that he was a "major organised crime figure".
Police said he had been the subject of 546 intelligence reports in relation to his involvement in drugs, organised crime and associations with outlaw motorcycle gangs, including the Nomads, of which his brother Hassan had been a senior member.
Apart from a charge of assault in his teens, John Ibrahim has never been convicted of a crime.
But in January 2006 his brother Michael Ibrahim became involved in an argument outside a nightclub with Robin Nassour, the brother of George Nassour, a comedian starring in a television series called Fat Pizza.
Robin Nassour had playfully flipped his middle finger at his brother. Michael Ibrahim thought he was the target, and later confronted the pair in an underground carpark, accompanied by Abou-Jibal and two others.
Robin Nassour was beaten and knifed to death. His brother was stabbed in the leg.
Abou-Jibal was later found dead in a park, a murder that still has not been solved.
The three other attackers were jailed, Michael Ibrahim for 6 and a half years, his accomplices for 25 years.
Bastani subsequently became involved with Fadi Ibrahim and was catapulted back into the news by the attempted killing outside his Castle Cove home.
Police allege that after the shooting Bastani joined a plot to take revenge on John Macris, a former Ibrahim associate whom the family held responsible for the shooting.
Macris, now a property developer who claims to have left crime well behind him, later told the Sydney Morning Herald that he had nothing to do with the attack and that the Ibrahims knew that. There has been no other suggestion that Macris was in any way involved.
But police allege that within a month of the shooting an associate named Rodney Atkinson had visited Michael Ibrahim in his cell at Broken Hill prison, beginning a plan to kill Macris that involved more than 7000 phone calls between the alleged conspirators.
Police further allege that when they raided Atkinson's house they found a silenced .22 calibre automatic pistol, another .45 handgun, a bulletproof vest and photographs of Macris with his home address.
Atkinson, Fadi and Michael Ibrahim and two others, Amerigo Gerace and Jim Said Habkouk, were charged with conspiracy to murder.
Fadi Ibrahim was released on A$1 million bail on medical grounds in November, and last Valentine's Day celebrated his engagement to Bastani at a Sydney harbourside restaurant.
Yesterday lawyer Brett Galloway told Waverly Magistrate's Court that Bastani, now nine weeks pregnant, had argued with Fadi Ibrahim several days earlier and had intended to visit a brother in Dubai on a return ticket that would have brought her back to Sydney on July 26.
Galloway described the case against Bastani as weak.
Bastani was released on A$1.1 million bail until July 22, subject to her living with Ibrahim, having no contact with Macris or the others accused of the conspiracy, and obeying an 8.30pm curfew.