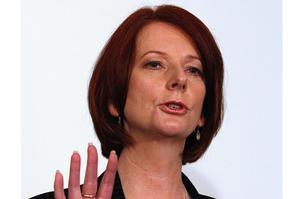 Despite ruling out any kind of carbon price before 2012, Julia Gillard says she's still the safest bet for the planet.
The prime minister says the opposition leader believes climate change is "absolute crap".
"My understanding about Mr Abbott is he has been dismissive of the science that human activity causes climate change," she told reporters in Brisbane on Thursday.
"He has been in favour of a carbon pollution reduction scheme, he has been against a carbon pollution reduction scheme ... I haven't checked today what his position ... is.
"It has varied substantially over time.
"I have consistently said ... climate change is real, it's caused by human activity, we will as a nation need a price on carbon, to get there we need community consensus.
"We will have that price on carbon when we have a deep community consensus."
On Wednesday, Ms Gillard emphatically ruled out a price on carbon before 2012 as she prepares to release a new policy on climate change.
That means no ETS, no carbon tax and no interim carbon levy until then.
She said the government would focus on what could be done "in the meantime" - likely a focus on renewable energy.
Mr Abbott, who was also in Brisbane on Thursday, said he'd like to see Australia's emissions reduced, but added: "I don't believe we should turn our economy upside down in order to do it.
"We've only got one planet and we've got to look after it," he told ABC Radio.
"The problem with some of the more zealous emission reducers is that they would do enormous damage to our economy without necessarily improving the environment."
He said other countries would have to act alongside Australia for an emissions trading scheme to have any real effect.
"I think that there is an evangelical fervor to some of the climate change affirmers," he said.
"I think in the end we've got to be pragmatic and we've got to be scientific about this, and the scientific consensus is not nearly as solid as the climate change zealots would have us believe.
"We've committed to an emissions reduction fund, which will build up to $1 billion a year in order to purchase abatements in ways that improve the environment."
WWF climate change spokeswoman Kellie Caught attacked Ms Gillard's inaction.
"She has continued Labor's backflip on climate change and ignored the public's sentiments on the one thing that will truly cut Australia's pollution - an emissions trading scheme," she said.
The Greens have promised to secure a carbon levy if the party holds the balance of power in the Senate after the next election.
"We are committed not just to accept a Abbott government that says they won't have a carbon price or a Gillard government that says we'll delay it for three years," Greens leader Bob Brown told reporters in Canberra.
"We Greens are more business savvy, more climate change savvy, more jobs savvy than that, and we will have it, I confidently predict that.
"But it depends on the voters giving the Greens that all important vote in the Senate, which is going to empower us to take real action on climate change."
- AAP