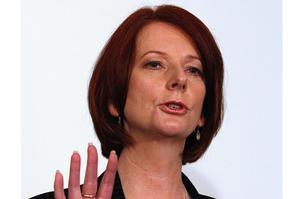 Australian Prime Minister Julia Gillard appears set to toughen Labor's policy on asylum seekers in a bid to deter a growing fleet of boats braving the Indian Ocean and to shore up the party's flanks for the coming election.
The Cabinet discussed the issue yesterday, after the interception of two more boats with 113 people on board at the weekend, and a deadline on Thursday for a review of the three-month-old suspension of visa processing for Sri Lankans.
Although it remains unclear what measures Gillard might consider, the need for some kind of action has been growing as the number of boats risking the perilous voyage from Indonesia has soared.
So far this year 75 boats carrying 3532 people have been intercepted off Western Australia, overwhelming detention facilities on Christmas Island, forcing the renewed transfer of detainees to the mainland and the reopening of remote camps, and exposing Labor to damaging attacks from the Opposition.
The influx of asylum seekers was identified as a priority by Gillard after she deposed former Prime Minister Kevin Rudd and is now at the top of her agenda following the compromise reached with miners last week over new resources taxes.
The Government's vulnerability on the issue has been underlined by growing public concern at the rising number of arrivals.
Under former Prime Minister John Howard, boats carrying asylum seekers almost vanished after an upsurge that peaked at more than 8000 arrivals in two years, the 2001 crisis over the refusal to allow the Norwegian ship Tampa to land people it had rescued at sea on Christmas Island, and the subsequent "Pacific solution" that saw asylum seekers detained in Papua New Guinea and Nauru.
After Labor's 2007 election victory Rudd axed the foreign camps and eased a number of key Howard measures, although keeping others and maintaining a large naval, Air Force and Border Protection Command presence in the Indian Ocean.
When the boats began sailing again - rising to more than 60 last year - the Government's argument that world events rather than less draconian policies were driving the influx came under telling fire from the Opposition.
Last November a Newspoll in the Australian found that 46 per cent of voters thought Rudd was too soft on asylum seekers, against 29 per cent who thought his policies "about right" and 16 per cent who considered his measures too hard. Since then theGovernment has tightened its approach, including the visa application suspensions for Sri Lankans and another for Afghanis, which is due for review in October.
The Malaysian human rights organisation Suaram told the ABC that the suspensions had led to a substantial fall in the numbersof asylum seekers arriving thereto try to find passage to Australia.
But despite Labor's boost in opinion polls since Gillard's ascension, the issue remains a problem in important marginal seats, an anxiety the Prime Minister acknowledged during a frank exchange with reporters.
She said people should feel free to say what they thought, without any sense of self-censorship or political correctness.
"For people to say they're anxious about border security doesn't make them intolerant," Gillard said.
"It certainly doesn't make them a racist. It means that they're expressing a genuine view that they're anxious about border security.
"By the same token, people who express concern about children being in detention, that doesn't mean they're soft on border protection. It just means they're expressing a human concern."
In any adjustment to Labor's policy, Gillard will need to balance concerns about border control with a significant lobby advocating a more humane approach to asylum seekers.
The Greens and human rights groups have already begun a counterattack, and leading human rights lawyer Julian Burnside challenged Gillard to "tell the truth [that] at the present rate of arrivals it would take about 20 years to fill the MCG with boat people".
Senior ministers have been suggesting even greater co-operation with the major source countries and nations through which asylum seekers pass on their way to Australia.
"We have to work not just with source countries like Afghanistan and Sri Lanka, but also transit countries through the region - Indonesia, Malaysia. Thailand," Foreign Minister Stephen Smith told Channel Ten.
"We also have to make sure, as we have, by increasing the assets on our border, we [can] protect our borders."
Media reports have said the Government will pursue new agreements with Sri Lanka and Afghanistan, including guarantees of safety for returning asylum seekers.
But Opposition Leader Tony Abbott said only the Coalition could stop the boats, as it had in the past, by turning back boats at sea, processing asylum seekers offshore, and bringing back temporary protection visas that gave only limited rights to asylum seekers later accepted as refugees.
TROUBLE ON THE HORIZON
1. Between 1989-90 and 1995-96, the number of asylum seekers arriving by boat averaged 358 a year.
2. During John Howard's more than 11 years as Prime Minister, arrivals averaged about 7 boats a month, peaking at 4175 asylum seekers in 1999-2000 and 4137 in 2000-2001, an average of about 346 people a month for the two years.
3. After the introduction of the Pacific Solution in 2001 arrivals were negligible.
4. PM Kevin Rudd eased controls and numbers began climbing again, reaching more than 60 boats and about 2850 people last year.
5. So far this year 75 boats carrying 3532 people have been intercepted, an average of more than 12 boats