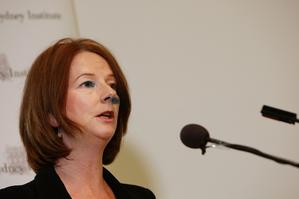 Touted as a tough, confident and ambitious leader, the woman in line to become Australia's first female prime minister has found plenty of support among the nation's media.
Earlier this week, former Labor leader Kim Beazley went as far as to lend his support to Julia Gillard, stating that she would make a good prime minister.
Welsh-born Gillard currently holds the position of Deputy Prime Minister, as well as Minister for Employment and Workplace Relations; Minister for Education; and Minister for Social Inclusion.
She studied arts and law at the University of Adelaide, before being elected national education vice-president of the Australian Union of Students (AUS) in 1983.
Gillard took up a role at law firm Slater and Gordon, becoming a partner in 1990, before her appointment as chief of staff to then Victorian Opposition leader, John Brumby.
She was finally elected to represent Lalor in Victoria as a federal MP in 1998.
According to the Australian, Gillard was "always a star" in the Labor Party.
"Feisty and very quick on her feet on the floor of parliament, Ms Gillard is widely regarded as Labor's most successful frontbencher."
Similarly, the Sydney Morning Herald hailed her rise through the ranks.
Said national editor Mark Davis: "As sharp as a pin, she proved herself a woman of patience and perseverance and finally triumphed, entering Parliament in 1998. She has been on an upward trajectory ever since."
He continued: "And at crucial moments in her career she has been willing to overturn power structures inside the Labor Party."
Michael Gordon, national editor of the Age, said Gillard had consistently demonstrated tenacity and patience.
Her grounded demeanour was one of many reasons the public was willing to embrace her, he wrote.
"There is no more consummate parliamentary performer on Labor's side than Gillard, and no one who is better placed to take on Tony Abbott. She can master a brief, communicate a message, demonstrate wit and go for the kill."
However, she is not without her flaws. A Reuters piece dismissed her potential leadership as representing a change of style rather than substance.
And while ABC labelled Gillard a "proven parliamentary performer" who had toughed out claims of rorting and mismanagement, it acknowledged she had not always come out on top.
"Gillard has also faced criticism over the Rudd Government's Building the Education Revolution schools building programme, with allegations that contractors were seriously overcharging schools for work done and that some projects were wasteful and unnecessary."
According to Australian magazine The Monthly, Gillard needs to surround herself with able advisers, as her weakness is in the policy area.
"Despite being intelligent, clear thinking and politically strategic - she is notably organised and, tellingly, a pedant for correct punctuation - Gillard can have a tin ear for policy," wrote Christine Wallace.
However, "what Gillard lacks in policy instincts she more than makes up for in the power of her advocacy".