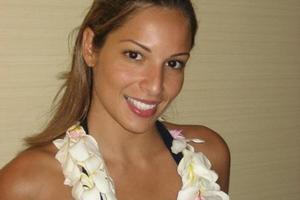 A tall, curvaceous banker claims she was forced out of her job because male co-workers found her figure and clothes "too distracting".
Debrahlee Lorenzana was told by managers that her work clothes were inappropriate for her job at Citibank in New York and needed to be changed.
Comments about her clothes began soon after she began work in 2008. After asking for a transfer she was stripped of duties, moved to a different office and then eventually sacked.
The Queens, New York resident is now suing for lost wages and emotional distress.
"Shortly after the commencement of her employment, branch manager Craig Fisher and assistant branch manager Peter Claibourne began articulating inappropriate and sexist comments concerning plaintiff's clothing and appearance," her gender discrimination suit, filed in the Supreme Court in Manhattan last year, said.
She was also told that "as a result of her tall stature, coupled with her curvaceous figure, she should not wear classic high heeled business shoes, as this purportedly drew attention to her body in a manner that was upsetting to her easily distracted male managers".
"The improper comments made to plaintiff by Fisher and Claibourne included advising her that she must refrain from wearing certain items of clothing, in particular, turtleneck tops, pencil skirts, fitted business suits, or other properly tailored clothing."
Ms Lorenzana, 33, "complained to management, pointing out that other female colleagues wore similar professional attire".
She claimed management informed her that other female staff members were not told what to wear because their "general unattractiveness rendered moot their sartorial choices".
She also told the Telegraph that a colleague said the branch was known for "hiring pretty girls".
Ms Lorenzana made a formal complaint to human resources in May of last year, and asked for a transfer.
The transfer didn't go through, and she was stripped of some of her duties, and then not given proper training for her new ones, the lawsuit said.
She was finally transferred in July, but was then chided for failing to recruit new customers, and she was fired that August.
A statement issued by Citigroup said the suit was "without merit".
"Citi is committed to fostering a culture of inclusion and providing a respectful environment in the workplace," the statement read.
"Her termination was solely performance-based and not at all related to her appearance or attire."
Ms Lorenzana is now working for another bank. She said she had not altered her wardrobe and her colleagues had not complained about the way she dressed.
"I get harassed in the supermarket with my son just wearing sweatpants with my hair in a ponytail," she told the New York Daily News.
"I can't help how I look."
According to The Sun, her lawyer Jack Tuckner said she had such a good figure that she would look "very attractive in a burka".
- NZHERALD STAFF