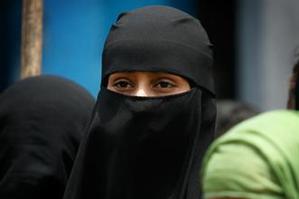 CANBERRA: Prime Minister Kevin Rudd has accused the opposition of walking both sides of the street after a Liberal senator suggested a ban on the wearing of burqas.
Outspoken senator Cory Bernardi has called for the banning of the Islamic covering after an armed robbery in a Sydney carpark on Wednesday by a man wearing a burqa and sunglasses.
The head-to-toe covering was emerging as the preferred disguise of bandits and "ne'er do wells", the South Australian senator wrote on his blog, adding it also prevented Muslim women from interacting in normal day-to-day life.
In response, Rudd said no law enforcement agency had recommended to the Government a ban on the burqa.
He took a swipe at Tony Abbott because Senator Bernardi was the opposition leader's parliamentary secretary.
"He [Bernardi] goes out there and says that's what he wants to do," he told the Seven Network yesterday. "Mr Abbott then says it's not their policy ... they are walking both sides of the street."
Deputy Prime Minister Julia Gillard and Opposition Leader Tony Abbott later agreed the Islamic burqa was a "confronting" and "challenging" form of clothing.
Neither Gillard nor Abbott said their parties proposed banning the garment worn by some Muslim women.
"It was a personal view of Corey's, it's a Liberal party policy," Abbott told the Nine Network. "I find it a pretty challenging form of attire and I would prefer it wasn't widely worn."
Gillard said she understood the feelings of Australians about the burqa and wanted schools to teach equality between men and women.
"I can understand Australians that do find it a bit confronting, it's a little different on our streets," she told the Nine Network.
"It's something for people to think about, I don't think it actually makes a difference trying to ban an article of clothing, I'm not sure that's what we want to do.
"We want to make sure there is teaching in our schools and society generally that men and women are equal."
- AAP