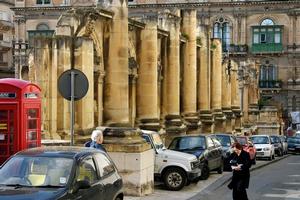 MALTA: It has lain in ruins ever since it was bombed by the Luftwaffe during World War II.
Now Malta's Royal Opera House, which was built in the 19th century by the same British architect who conceived London's Covent Garden, is finally to be restored.
But a contentious plan to turn it into an open-air performance space rather than a traditional opera house has sparked a ferocious row among the Mediterranean island's 400,000 inhabitants.
The restoration is part of an ambitious, €100 million ($176 million) project to transform the gateway to Valletta, Malta's superbly preserved, compact capital.
It will be one of the biggest changes to the city since it was built in the 16th century by the Knights of St John, who came to Malta after being turfed out of first Jerusalem and then Rhodes.
They constructed Valletta from scratch on a windswept sandy peninsula after defeating a massive force of Ottoman Turks. Its massive defensive walls, sumptuous palaces and Baroque churches have since earned it World Heritage status.
The controversial project has been drawn up by world-renowned Italian architect Renzo Piano, who has worked on the Pompidou Centre in Paris and Berlin's Potsdamer Platz, in partnership with a Maltese firm called Architecture Project.
It was given the green light last month by Malta's Government and is due to be completed by 2012.
In addition to restoring the opera theatre, the project entails constructing a brand new parliament building and tearing down the gate which leads into the old city.
Critics say the redesigned city gate will bring unacceptable levels of traffic into Valletta's narrow medieval streets.
"This project is going to radically change the face of Valletta," said Astrid Vella, the leader of a heritage group called Together For A Better Environment.
"The arrogance with which it has been passed by Parliament, with no proper public consultation, is breath-taking.
"We're wasting millions on a huge white elephant in the middle of Valletta."
The opera theatre was bombed to bits in 1942, during a months-long siege by German and Italian forces. Debate over the theatre's future has raged ever since, with no less than 47 attempts to rebuild it collapsing in the face of bitter opposition.
Under the latest plan, steel columns will support a sail-like canopy which will give shelter from rain and muffle the sound of performances from residential areas.
"It will evoke the design of the original building," said Konrad Buhagiar, a partner with Architecture Project.
Herman Grech, the deputy editor of Malta's Sunday Times, said he had rarely seen passions run so high on the sun-baked island.
"People want a fully functioning theatre but this is not the West End and theatre is not exactly thriving. The existing gate is ugly and the square is a glorified carpark, so anything beats that.
"We've been discussing this for 65 years. Now that something has been agreed, let's just do it."